Almond Oil for Baby Massage: Benefits, Precautions, and Best Brands
Regular oil massage is a part of Indian custom, and it is something that every Indian household believes in. If you are looking for Benefits of Almond Oil for Baby Massage and which is the Best Almond Oil for Baby Massage in the Indian market, we have got the answers for you.
You can also read our article Best Baby Massage Oil in India to know more about the benefits of massage, how to choose the best massage oil, and tips on giving massage to the baby.
What is Almond Oil?
Almond oil is derived from the almond fruit's seed. Almonds are hulled and dried after harvesting, and their oil is extracted using a variety of processes. If almond oil is extracted using high heat and chemicals, it affects the nutritional value of the oil. It is always better to go for cold-pressed oil which is extracted without heat and retains the highest nutrient content in the oil.
The best part about almond oil is that it is gentle on the body and does not have any negative side effects. As a result, it can be used by anyone, including children and adults.
Types of Almond Oil
Almond oil comes in two flavors: Bitter and Sweet. Mostly you will find sweet almond oil in markets.
Sweet almond oil is derived from the almonds that we enjoy eating. Bitter almonds are not as elongated in shape as sweet almonds and come from a different tree. Sweet Almond oil is preferred over bitter one as it is safer compared to the latter one. Sweet Almond oil is edible and if it accidentally goes into a baby's eyes and mouth it is safe. As a result, sweet almond oil is always recommended for a baby's body massage. Bitter almond oil is mostly used for medicinal purposes and has the potential of causing food poisoning.
Benefits of Almond Oil for Baby Massage
Clinical Research from 2020 shows that it is safe to use almond oil as a baby massage oil. The researchers found that applying almond oil to preterm babies enhanced the thickness and strength of their skin without causing any negative side effects.
Now, let's read the benefits of almond oil for baby massage.
Rich in Vitamin E
Almond oil is rich in vitamin E and Vitamin D which is good for a baby's skin and bones.
Excellent Emolloient
Almond oil is an excellent emollient for softening, smoothing, and nourishing a baby's skin.
Natural Moisterizer
Almond oil works as a natural moisturizer. If your baby has dry skin, almond oil can help you see changes in as little as a week. Almond oil absorbs quickly into a baby's skin, keeping it soft and supple. Because almond oil is edible, it can also be used to treat chapped lips.
Treat Dematitis and Eczema
Almond oil is used to treat common skin conditions, such as dermatitis and eczema.
Rich in Vitamin D
The biggest benefit of almond oil for baby massage is the natural Vitamin E and Vitamin D present in it which is good for the baby's skin.
Good for Hair
Due to its high vitamin D and magnesium content, almond oil is beneficial not only to the skin but also to the hair.
Used All Seasons
Almond oil can be used throughout the year irrespective of the season.
Treats Cradle Crap
Almond oil helps in treating Cradle Cap. Many babies suffer from cradle cap, an inflammatory illness. Gently massage sweet almond oil on the affected area to treat yellowish, oily, crusty skin patches on the baby's head.
Good for Blood Circulation
Almond oil is good for blood circulation. It enhances your baby's blood circulation, calming his tired limbs and tight muscles.
Natural Sunscreen
Almond oil works as a natural sunscreen. It contains SPF 5 which protects the skin from harmful sun rays.
Better Digestion
Almond oil helps in better digestion. In case of indigestion, gently massage warm almond oil on the baby's tummy. Avoid massaging the navel of a newborn directly as the navel in a newborn is soft and sensitive.
Doesn't Clog Pores
Almond oil is a lightweight oil that doesn't clog your pores. As a result, it can be used both before and after bathing the baby.
Stronger Nails
Almond oil's potassium and calcium content help to make nails stronger and shinier.
Good Sleep
Last but not least, almond oil massage is calming, resulting in a quiet sleeping environment for your kid.

Precautions to be taken while using Almond Oil for Baby Massage
To begin, a patch test on a small area of the body is recommended to check for an adverse reaction. Perform a patch test on your kid and wait two to three days to see if he's allergic to it.
If your baby has a nut allergy, see your pediatrician before using almond oil. If your family has a history of nut allergies, almond oil may cause an allergic reaction in your baby's skin.
Be careful that almond oil does not get into the baby's eyes or nostrils.
Always use high-quality cold-pressed almond oil and check the expiration date. Cold-pressed oils are the best since they are extracted without the use of heat or chemicals, preserving all of the nutrients.
After giving your baby an oil massage, always wash your hands before lifting him up. For the same reason, make sure your baby's body isn't covered in excess oil.
List of Best Almond Oil for Baby Massage in India
Almond oils are available in a variety of brands nowadays. The majority of them are highly processed and empty of nutrients. For your newborn, I recommend going with Cold Pressed and an Organic brand.
Below are the Best Almond Oil Brands for baby massage in India. All these products can be used on both adults and children. They're made of sweet almonds and contain only natural ingredients.
Baby and Mom Almond Oil for Baby Massage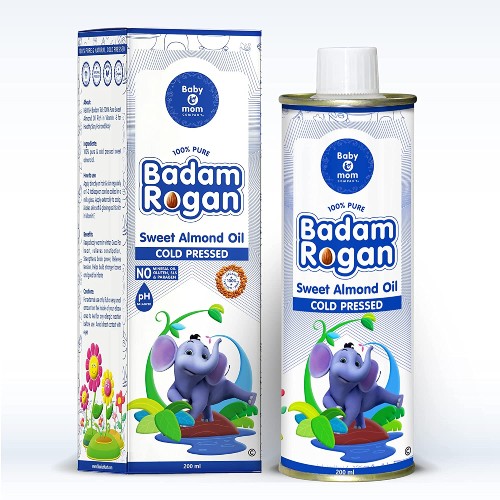 Baby and Mom Company's almond oil is 100% natural baby oil that is ideal for massaging baby skin. The oil is unfiltered and it has no extra additives. It is made from pressed almonds. The oil absorbs quickly and does not clog pores, resulting in clear, soft, and healthy-looking skin. It has a sweet fragrance and is value for money.
Mystiq Living Originals Sweet Almond Oil
Free from paraben, sulfate, hexane, fillers, mineral oils, Mystiq Living's sweet almond oil is pure cold-pressed almond oil. Almond oil helps in the relaxation of the baby's muscles and blood circulation, which helps the baby to sleep better. It can also be used to treat diaper rash.
WishCare Sweet Almond Oil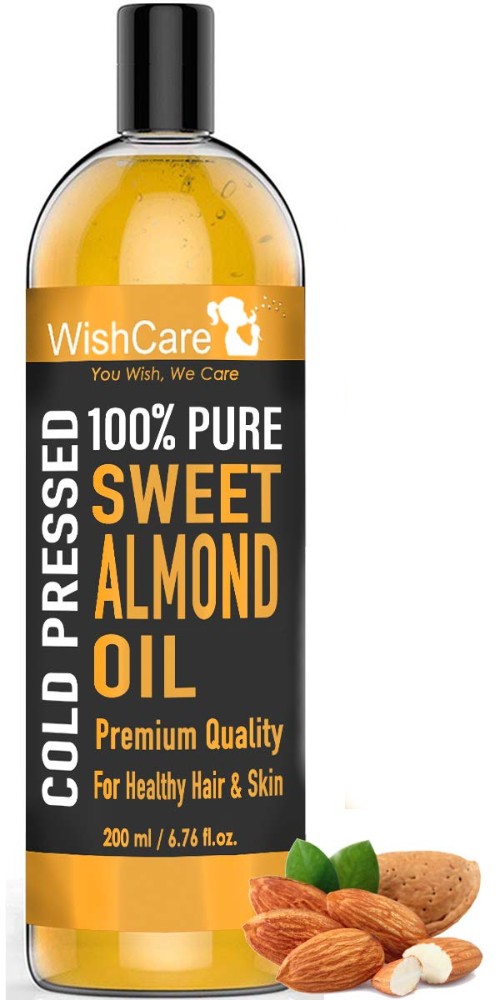 Sweet Almond Oil from WishCare is excellent almond oil. It's guaranteed to be genuine, pure, natural, and free of hexane. There are no extra ingredients and it is undiluted. It has a flip top cap that is simple to use. Not just for baby massage, you can even use it for your hair and skin.
Baby Buttons Sweet Almond Baby Massage Oil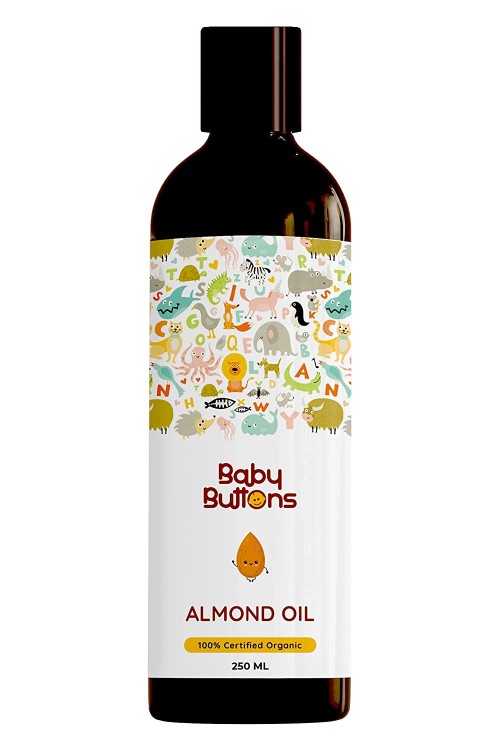 Baby buttons' sweet almond oil is 100% pure USDA certified organic sweet almond oil. It's light, non-aromatic and non-sticky. Regular massage with almond oil will strengthen the baby's bones & muscles.
Ancient Living Almond Baby Massage Oil
If you are looking for an affordable and organic sweet almond oil for your baby's massage, this sweet almond oil from Ancient Living is a good choice for you. Almond oil from Ancient Living will soften and protects your baby's fragile skin by gently moisturizing and protecting it.
Dabur Badam Tail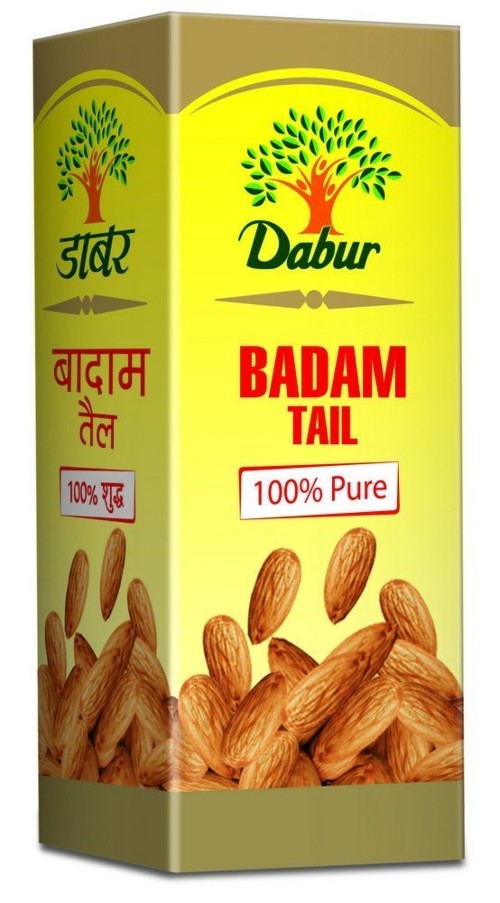 Dabur is a well-known brand in India, and it strives to maintain its reputation in all of its goods. This almond oil from Dabur is 100 percent pure and edible, so you can use it on the scalp, body, and skin, as well as consume it. The only drawback I find is the large opening of the bottle that may cause spillages.
Forest Essentials Almond Oil
Forest Essentials is a high-end Ayurvedic brand that creates some of the world's most exotic products. The almond oil is non-sticky, lightweight, and quick to absorb, leaving infant skin soft and supple. It also has a sweet and light almond scent that stays long after application. It also relieves diaper rash, among other things. The cold-pressed almond virgin oil, like all other goods from this brand, is a little expensive. Nonetheless, it is well worth the money you spend on it.
Urban Botanics Sweet Almond Oil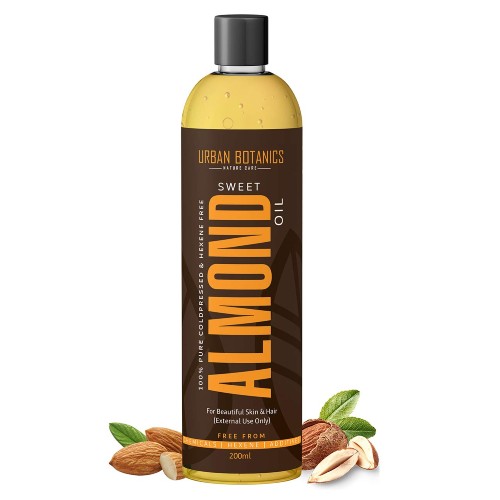 The Urban Bonatics Almond Oil is a multipurpose carrier oil. It's 100% natural, non-toxic, and hexane-free. It is cold-pressed, retaining all of its natural qualities for optimal outcomes. The packaging is pretty durable. It's packaged in a travel-friendly plastic bottle.
Do you use almond oil for baby massage? Which brand do you prefer? Please tell us about your experiences in the comments area below.