Best Electric Breast Pump in India 2021
If you are a new mother and looking to buy an electric breast pump and wondering which is the Best Electric Breast Pump in India, you have come to the right page. Buying an electric breast pump is not as fun as choosing cute outfits for your baby. But, the right breast pump can make a big difference in your life. While you might get glowing reviews from other mothers about their pumps, what is right for them may not be right for you. Every mother and baby have different needs, so it is important to choose the right breast pump for you.
Here you will find everything you need to know about electric breast pumps and the best brands available in the Indian market.
What are Breast Pumps?
In simple words, a breast pump is a machine that helps to extract breast milk in lactating mothers. It helps mothers to store breast milk and use it later. Breast milk extracted through a breast pump can be stored for up to 6-8 hours, and up to 24 hours when refrigerated. This way mothers don't always have to be around to nurse their babies and babies can enjoy the advantages of breastfeeding with their mother not around.
Not just working mothers, this device is great for mothers who are staying at home too as it allows them to take some well-deserved rest.
What are Electric Breast Pumps?
There are two types of breast pumps depending on their working mechanism– Manual and Electric. In the case of a manual breast pump, milk is expressed manually. You need to use your hands to pump milk. In the case of electric breast pumps, these breast pumps are operated using a battery or electricity to express milk and involve no use of hands.
Manual Breast Pump
Electric Breast Pump
Advantages
Affordable
Portable
LightWeight

Disadvantages
Tiresome
More Time to express

Advantages
Requires Less Effort
Less Time to express

Disadvantages
Costly
Noisy
Difficult to carry around
Who Should Buy an Electric Breast Pump?
Electric breast pumps are ideal for working mothers who will need to pump on a daily basis or those suffering from any medical conditions because of which they can't be with their babies.
Electric breast pumps come in two variants: Single and Double. In a single electric breast pump, milk is pumped from one breast at a time. In the case of a double electric pump, milk is pumped from both breasts simultaneously reducing the time to express breast milk.
For occasional express, a single electric breast pump works well. If you are planning to return to work early then double breast pumps are more convenient for regular expression. Double pumping reduces the time it takes to pump but on the other hand, is noisy and can be very heavy.
List of Best Electric Breast Pump in India
I have shortlisted 6 Best Electric Breast Pumps available in India after going through its features and customer reviews.
1. Medela Swing Maxi Double Electric Breast Pump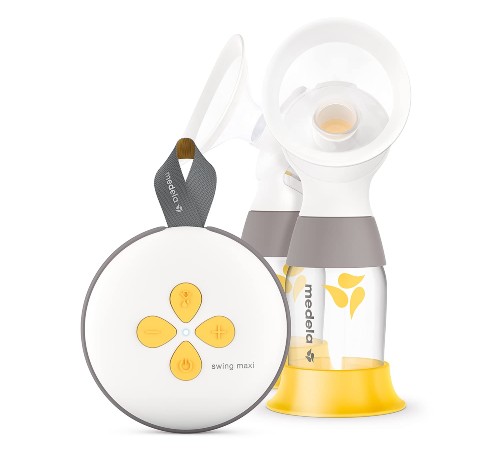 Medela has been in the business of breast pumps for over 50 years and is now a market leader in the same. The Medela Swing Maxi Double Electric Breast Pump is relatively a new product in its category of electric breast pumps launched by this Swiss company. It's the ideal companion for mothers who need an extra bottle in half the time or who want to spend more time with their baby instead of pumping.
Features
What makes this model stand out from its competition is its 2-phase expression technology. The pump has been created to mirror a baby's natural feeding rhythm: quick and light at first, then slower and deeper. This is intended to make the job of expressing milk more efficient, allowing women to express up to 18% more milk in half the time, according to Medela.
It comes with 1motor unit, 2 150ml bottles with lid, 2 bottle stands, 4 Personal Fit Flex breast shield and cable and adaptor.
It runs on 6 AA batteries too.
Pros
It is easy to set up. The instructions are easy to follow (all in one sheet) and to the point.
It's simple to use. The pump only includes four buttons: one to start expressing, second to start the first 'stimulation' phase, third and fourth to increase and decrease the speed respectively.
It is compact making it ideal for moms who are always on the move. The motor easily fits in your palm.
It has good battery life. It provides up to 6 pumping sessions on one full charge
Cons
There is no timer or electronic display. You can only guess at whatever suction level you're at by feeling it.
It is expensive if you compare it to other double electric pumps in the market 
It is noisy. This electric breast pump is marketed as a pump that can be used on the go and runs on batteries, but there is no way to mask the noise it makes.
If you do not want to spend too much you can buy its single breast model too here.
2. Trumom Rechargeable Single Electric Breast Pump
It is one of the most popular brands in electric breast pump on Amazon India as it is quite affordable compared to other breast pumps in the Indian market. Trumom is a US based company selling baby products like baby car seats, breast pumps, sterilizers etc.
Features
The Trumom electric breast pump comes with a rechargeable battery that lasts for 2 hours after a single full charge.
It comes with 5 stage simulation and 9 stage expression mode. The simulation helps in massaging the breast to increase breast milk supply. The pump automatically increases the level from 1 to 5 changing the levels after every 45 seconds. After simulation you have to choose the suction or expression mode.
It comes with PPSU grade bottle. The bottle's body is tough, sturdy, and long-lasting.
Its pump, nipple, bottle, and all other pieces are manufactured of medical-grade plastic that is heat resistant and performs wonderfully.
Pros
Trumom electric breast pump is easy to assemble as it comes with few parts.
It is affordable compared to other electric breats pumps in the market.
The pump comes with a rechargeable battery which can last for about 2 hours.
It is light weight and hence portable.
The motor comes with a good digital display that lets you change the settings for the pump easily.The product is BPA free and safe for mom and the baby.
Cons
At the time of writing this post, I could not find double variant in the same in India. On the website it shows that they have double electric breast pump model too.
3. Philips Avent Electric Single Breast Pump
Inspired by a baby's natural sucking movement, the Philips Avent electric breast pump available in India promotes optimal milk flow and adapts to the size and shape of your nipple gently.
Features
It has a simple design with only a few lightweight parts that are dishwasher safe and easy to assemble.
Unlike breast pumps that only work when you lean forward, philips electric breats pump allows you to express while sitting comfortably upright, and the angled neck of the pump helps milk to flow smoothly from breast to bottle.
With four AA batteries, it may also be used on move.
The pump has a gentle massage cushion with textured petals that imitate your baby's natural suckling movements to help in increasing milk flow.
The collecting container that connects to the pump also functions as a bottle.
Pros
The breast pump is very easy to set up, use, and clean.
It has only three buttons: one for power, second for stimulation mode and third to increase or decrease expression mode. The stimulation mode mimics a baby's sucking when they first latch. Once you've generated a flow, you can choose your expression settings.
When you're at home, the pump can be plugged in, but when you're travelling or on the go, it can also be powered by four AA batteries.
It is compact and therefore easy to carry. It can easily fit in your big handbag.
The pump is also compatible with other Philips Avent feeding devices, like their classic bottles.
Cons:
There is no LED display. You'll have to keep track of how long you're pumping and remember what suction strength you prefer.
It is little noisy.
In India, double variant is not available as of now.
4. R for Rabbit Smart Automatic Electric Breast Pump
R for rabbit is an Indian based company selling baby products like strollers, tricycles, high chair, baby tubs, breast pumps etc. This electric breast pump is designed to imitate baby's suction when breastfeeding and a good option to consider for mothers in India.
Features
It is made with material which is BPA free.
This device has two settings, one for massage and the other for suction. For massage , there are 10 massage levels and three frequency levels to choose from. For the suction mode, there are 15 levels along with three frequency levels.
This electric breast pump comes with a touch display. You can modify modes and get readings on the display on the touch panel.
Pros
It is easy to use.
It's small and portable, so you can take it with you everywhere you go.
When compared to other electric pump brands on the market/online, this breast pump is quite affordable.
It comes with LCD display unlike some models to operate and select different suction power and mode.
It works on batteries too.
Cons
It is only available in single variant.
It is little noisy.
5. Spectra S1 Double Electric Breast Pump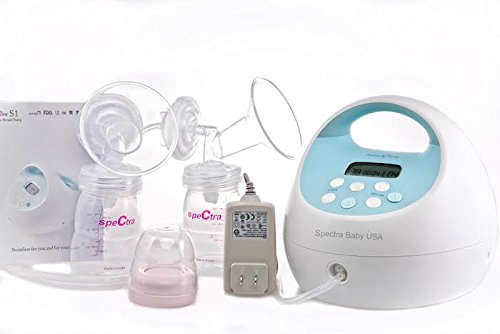 Spectra Double Breast Pump is an electric double breast pump from South Korea now available in India. It has a number of great features that might be exactly what you need! This electric breast pump is also a good option to consider.
Features
It is a hospital grade electric pump. It has a powerful pump performance with a maximum suction strength of 350mmHg.
The design is modern and sleek.
The pump begins in massage mode, which is designed to mimic how a baby sucks at the breast when it first begins feeding. After that, it switches to expression mode, which is a deeper, slower suction pattern that replicates how your baby nurses after your milk has started flowing.
Pros
It comes with a LCD display which makes it easy to monitor all the numbers and stats related to pumping.
Much quieter than traditional electric breast pumps in Inidan market.
It comes with a bottle holder where you can keep the bottle after pumping.
It comes with night light on the handle which is helpful in late-night pump sessions.
Cons
Spectra S1 electric breast pump is less portable compare to other pumps.
The pump does not work with batteries. It only works with adaptor. With rechargeable battery. it works only for one hou .
It is expensive, but it's a wonderful choice for breastfeeding women if using it every day.
6. Diya Electric Breast Pump
Diya Electric Breast pump is an Indian brand which is popular in many maternity hospitals. The stimulation and expression mode of the pump mimics the baby's natural sucking habits and is gentle on breasts.
Features
The pump comes with 3 modes: stimulation, expression and power expression. You start with stimulation mode to stimulate breast and after a minute you have to change to expression mode which helps in extracting the mailk. There are 6 suction levels in each mode of the 3 modes giving a total of 18 combinations.
The pump works on both battery and adapter. It also comes with a rechargeable battery which has 3 hours life after full charge.
It is FDA approved.
The pump is highly effective hospital-grade breast pump with a suction of 300mmhg. It is able to remove breast milk in 10 to 15 minutes
The same pump works in both single or double side pumping options.
Pros
It is easy to assemble and use.
Compared to other hospital grade breast pump available in the Indian market, it is quite reasonably priced.
It is not noisy.
The pump comes with a pumping bra which  allows hands-free pumping and is less exhausting. It is possible to do other things while pumping by simply hanging the pump and battery inside the bra. You can read books or do anything on mobile or laptop while extracting the milk.
The pump has a clip on the back. You can hang the pump on your clothing using the clip  making you hands-free.
Parts are readily available unlike imported brands.
The pump is lightweight, compact and portable which makes the pump travel-friendly.
Cons
Personal Suggestion
The best way to decide which is the best electric breast pump in India to buy is to first decide how much you are going to pump in a day ? Where are you going to pump ? Will pumping at home be enough? Or you will have to carry breast pump with you all day? What is the size of your budget?
If you are going to pump out occasionally my personal recommendation would be Philips Avent Electric Single Breast Pump .
If you are going to pump out regularly and price is not an issue for you , then go for go for Medela Swing Maxi Double Electric Breast Pump. Choose double variant as it will help you in saving time by expressing milk from both breasts at the same time with just one machine. A typical pumping session lasts 10-15 minutes for each breast. If you're pumping in the workplace then you may want to purchase an electronic breast pump that permits women to breast pump both breasts simultaneously. A double breast pump can boost milk production , while also reducing the time to pump by half.
If you are going to pump out regularly and do not want to spend too much on a breast pump then my recommendation would be Trumom Rechargeable Single Electric Breast Pump.
If the baby or you are not able to nurse following birth, it is recommended to utilize a hospital grade pump. In this case my recommendation would be Diya Electric Breast Pump.
FAQs on Electric Breast Pumps
How to clean an electric breast pump?
The battery and motor should be cleaned using a dry cotton cloth or paper towel after every use. It should not be immersed in water or other liquids to be used for cleaning. The pieces that come in contact with breastmilk should be washed everytime with liquid soap and hot water after every use.
Does using an electric breast pump harm breasts?
Some women may experience sore nipples & irritation due to regular pumping at high speed. The continuous use of this method on wrong settings can cause damage to the nipple and breast tissues. Regular pumping of breast milk using breast pumps may lead to over production of hormones which may cause breast engorgement. If milk is not emptied in  such a case, then it may lead to clogged ducts and mastitis.
If you experience discomfort when pumping, it's advised to stop the pumping for a short period of time.
I hope this post on the Best Electric Breast Pumps in India was useful in assisting you in choosing the best electric breast pump for your needs. If you still have any questions, feel free to post a comment below. I will try my best to assist you in resolving your problem.
Also check our other post related to massage oil for babies.