Paper Plate Rocking Elephant Craft For Kids
I was looking for paper plate craft activities online and found this amazing Paper Plate Rocking Elephant Craft for Kids from Joyofsharing. It is an easy art and craft activity which can be done by kids in preschools and kindergarten. It also makes an amazing craft activity for Dussehra. Elephants are decorated and paraded during Dussehra festival in Mysore.
Supplies Required to Make Paper Plate Rocking Elephant
1 Medium sized Paper Plate
Poster Colors
Scissors
Pencil to draw sketch
Decoration Material
Black sketch pen
Steps to Make Paper Plate Rocking Elephant
First take a paper plate and fold it into half.
Now draw the outline of elephant on one side as shown in the picture below.
Now color and decorate your elephant. We decided to paint our elephant green and decorate with mirror and wooden cut outs. It's totally up to you how you want to decorate.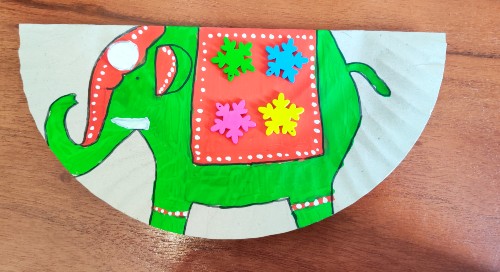 Outline with sketch pen and cut out the elephant keeping the top part intact.
Your rocking elephant is ready !
Tap to Rock the Elephant
Fun Facts About Elephants for Kids
While doing this activity you can also share fun facts about elephants with your kids.
Elephant is the largest land animal in the world.
Every day, elephants spend between 12 and 18 hours eating grass, vegetables, and fruit!
Wild elephants always live in herds. These herds are made up of only female elephants.Only the young calves are males in these herds.
Elephants love to swim, bathe and play in rivers.
Elephants are so intelligent that they can peel bananas, corn, and a variety of other foods on their own.
Elephants have very good memory.
My son not only enjoyed making this craft but also playing with the same. This craft serves you two purpose – keeps your child engaged in creative work and second get them a toy to play with later.
If you liked this Paper Plate Rocking Elephant bookmark or pin for future reference.