Simple Books on Dussehra for Kids
In this post, we have mentioned simple Books on Dussehra for Kids that you can gift your children this Dussehra festival. I have also included answers from a kid's perspective in very simple language to questions related to the Dussehra festival. Find out why we celebrate Dussehra, when is it celebrated and how is it celebrated? in simple language.
What is Dussehra ?
Dussehra is a festival celebrated by Hindus celebrating the killing of Ravana, his son Meghanatha, and his brother Kumbhakarna by Lord Rama. Do check our Ravana Craft for Kids.
Why is Dussehra Celebrated?
The word Dussehra is derived from two Sanskrit words –Das and Hara. Das means ten and Hara means defeat. On this day, Ram, Hanuman, and his army of monkeys killed the ten-headed demon Ravana. They fought to free Ram's wife Sita, who had been kidnapped and imprisoned by the Ravana in his palace on the island of Lanka. It is regarded as a triumph of good against evil.
Dusshera is also known as Vijayadashami. It is also believed on this day Goddess Durga killed the demon Mahishasura to bring peace to the world. There was a ten-day struggle between the Goddess Durga and the devil and she defeated Mahishasura on the tenth day. The tenth day is celebrated as Vijayadashmi, which means "success on the tenth day."The period of nine days before Vijaysdashmi is celebrated as Navratri. This link from Magicbox English Stories beautifully tells the same story.
When is Dussehra celebrated?
Dussehra is a ten-day Hindu festival that comes every year at the end of Navratri. Dussehra is celebrated on the tenth day of the Hindu month of Ashvin which usually corresponds to September or October in the popular Gregorian calendar.
How is Dussehra celebrated?
Dussehra is one of the major festivals of India and is observed in various parts of India. However different regions and communities celebrate it in their own unique ways.
Ravana Effigies are Burnt
On Dussehra, the huge effigies of Ravana, his son, and his brother are set on fire with fireworks, symbolizing the triumph of light over darkness.
Ramleela is Organised
Skits and plays based on Ramayan are performed over the course of these nine days.
Durga Puja in Kolkata
In eastern India, Dusshera is celebrated as Durga Puja. Devotees worship the nine avatars of Goddess Durga throughout the nine days prior to Dussehra or Durga Puja.
Navratri in Gujarat
In Gujarat, the festival of Dussehra is known as Navratri. Throughout the nine days of Navratri, you can see people keeping fast and dressing and dancing on folk dance, Dandiya, and Garba.
Mysore Palance is Illuminated
During these nine days, the Mysore palace is beautifully illuminated, and on the tenth day, a grand procession is taken throughout the city of Durga on the golden throne with beautifully decorated elephants. Do check our Mysore Dussehra-inspired elephant craft idea.
Golu Display in South India
In South India, celebrations take the form of Navratri Golu. Golu Dolls or dolls of gods, goddesses, men, animals, and children are displayed on a steps-like set-up.
Books on Dussehra for Kids
We have handpicked some books available in India at reasonable prices on Dussehra for kids. These books are ideal for kids aged 4-7 years.
Dusshera: Festivals of The World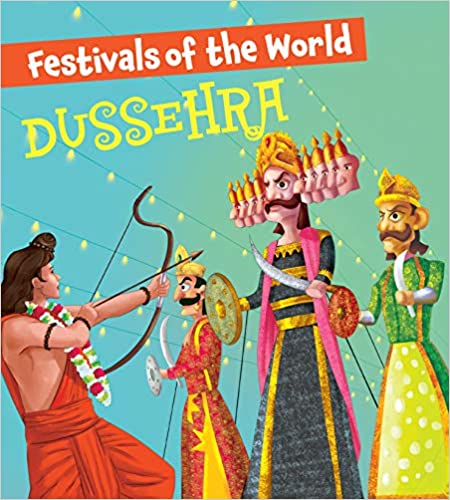 This is an excellent book to teach in a simple way about Dussehra accompanied with beautiful illustrations.
Amma, Tell Me About Durga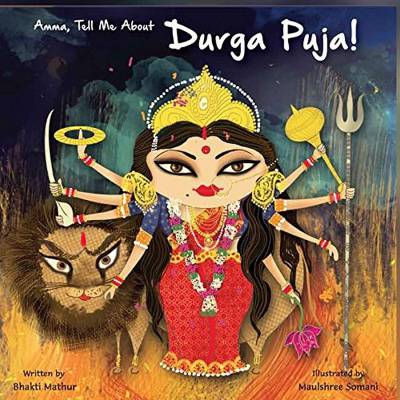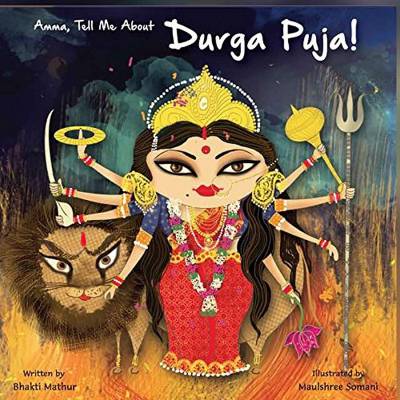 This book tells the story of Durga and how Bengalis celebrate Durga Puja. The book's illustrations and narrative are very simple and clear for young kids to understand about the festival Durga Puja.
Celebrate! Dussehra & Durga Puja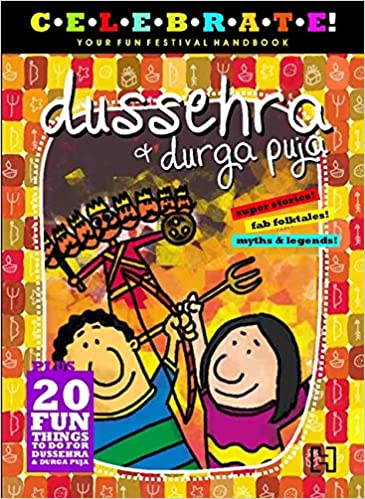 This book tells Dussehra and Durga Puja stories wonderfully. It tells how people in different regions of the country celebrate these festivities in a variety of ways. From fasting to feasting, from Rama dramas to burning Ravanas, from exchanging leaves to exchanging gifts, it tells all about Dussehra.
Ramayana for Children
This is a fantastic introduction to the Ramayana for children. Though a few portions are missing, still it is great to start if you want your children to learn about this epic tale. They can then read other simplified copies once they've grown up.
I hope you find this list of Books on Dussehra for kids helpful. Do you wish to add any book to our list? Do let us know in the comments section below.