Our Favourite Maternity Photoshoot Gowns at Affordable Prices
Because pregnancy is such a special time for both the expecting mother and her family, it's natural you would want to document it with a beautiful maternity photoshoot. If you have planned for your maternity photoshoot and are looking to buy Maternity Gowns for a Photoshoot in India, you are at the right place.
Here is the link to the store that does beautiful gowns for maternity photoshoots, baby showers, weddings, or any special occasions. It is by the name Plum and Peaches.
Plum and Peaches, based in India has a great range of maternity gowns for a photoshoot giving you plenty of options to choose from. Whether you're looking for a simple maternity gown or an elaborate Pinterest-worthy maternity photoshoot dress, you will find it here. What's the best part of the store is that they do all kinds of customization and all their gowns are so affordable. Whether you want to get a color, neck, sleeve, or style changed, they will do it for you.
Favourite Maternity Gowns for Photoshoot in India
Below are some of my favourite maternity gowns from their collection to inspire you for your upcoming shoot.
Long Sleeve Mermaid Maternity Gown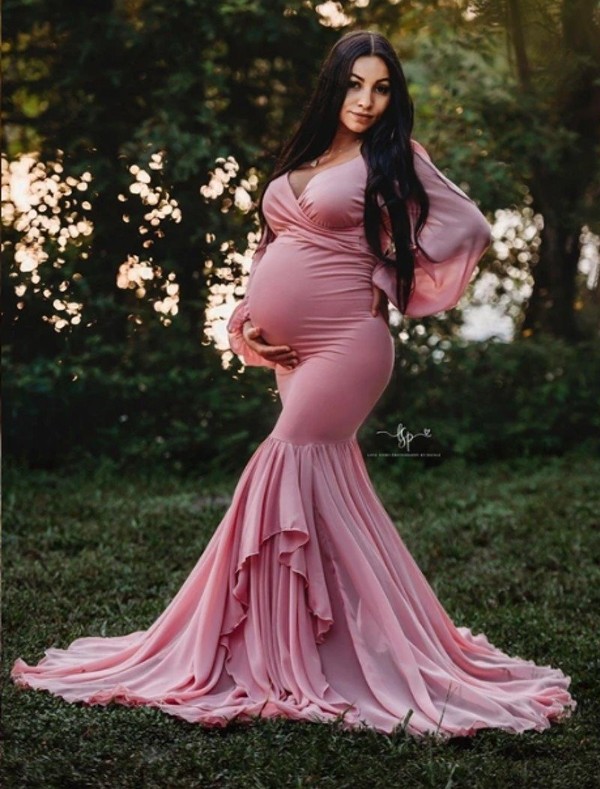 This long sleeve maternity gown has has a fitted bodice that allows you to flaunt your lovely baby bump. The mermaid style hemline gives a fancy look.
Draped Cold Shoulder Maternity Gown
This cold shoulder maternity gown will give a classic and alluring style. Relaxed shoulder drape details and slim spaghetti straps gives an extra charm to the look.
Long Sleeves Lace Maternity Gown for Photoshoot
I love this long sleeve dress made of lace. The dress comes with lining and the V-neckline highlights your neck and collar. If you are looking for something more colorful? You can even ask them to customize your color.
Ruffled Maternity Photoshoot Gown
Show off your baby bump for your maternity photoshoot in this romantic maternity gown. The top layer has ruffles as well as sweetheart neckline and drop sleeves. Bodice is made of stretchable fabric and the skirt has mermaid cut. You can wear it at a wedding, photoshoot, baby shower, or any other special occasion.
Off Shoulder Ruffle Maternity Gown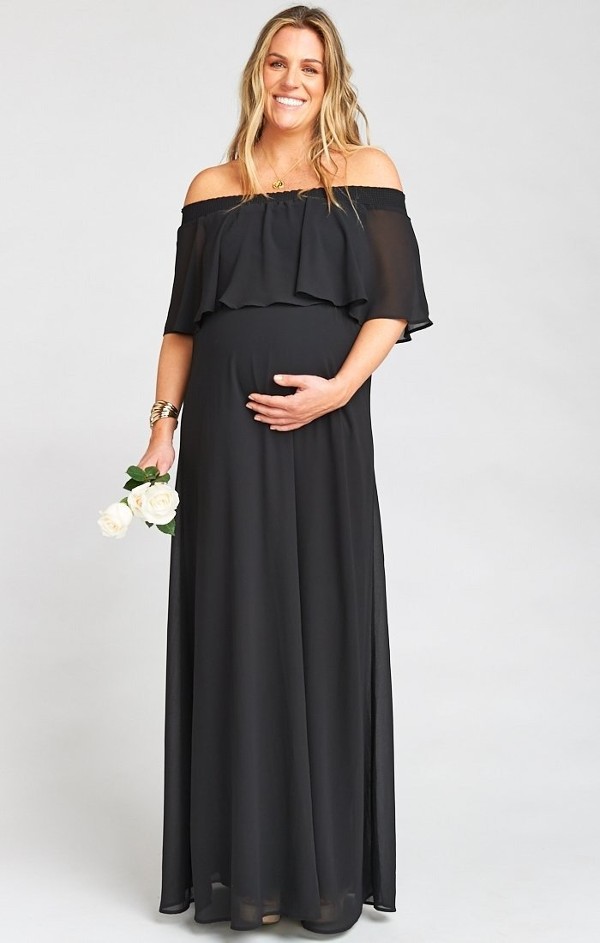 If you are looking for something classy and elegant, then look no further than this off shoulder ruffle maternity gown. It features a flirty off-the-shoulder flounce top, and A Line skirt designed to accentuate your feminine curves. You can wear it even after the pregnancy. Perfect for baby showers, maternity photos, engagement sessions, and more!
One Shoulder Pleated Maternity Gown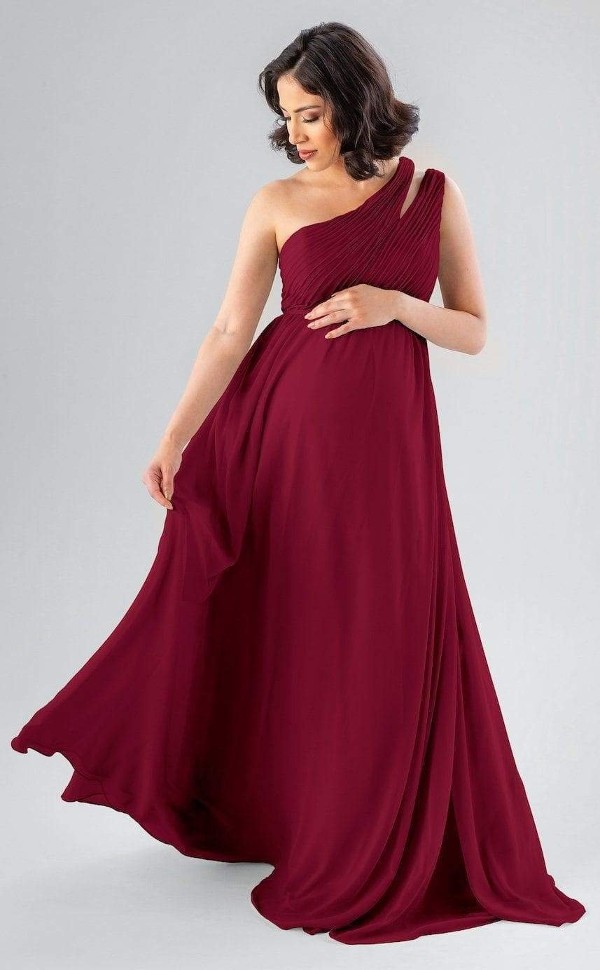 This pleated one shoulder maternity gown is for anyone looking for a fun and flowy look. It features a one shoulder neckline, empire waistline and A-line silhouette. To make it dramatic you can add a long trail with it.
Long Sleeve Georgette Maternity Gown for Photoshoot
If you don't want to show any skin for your maternity photoshoot then this long sleeve gown is perfect for you. This gown is fitted on top to show off that gorgeous baby bump and has a skirt added to it that flows behind you.
Cape Maternity Photoshoot Gown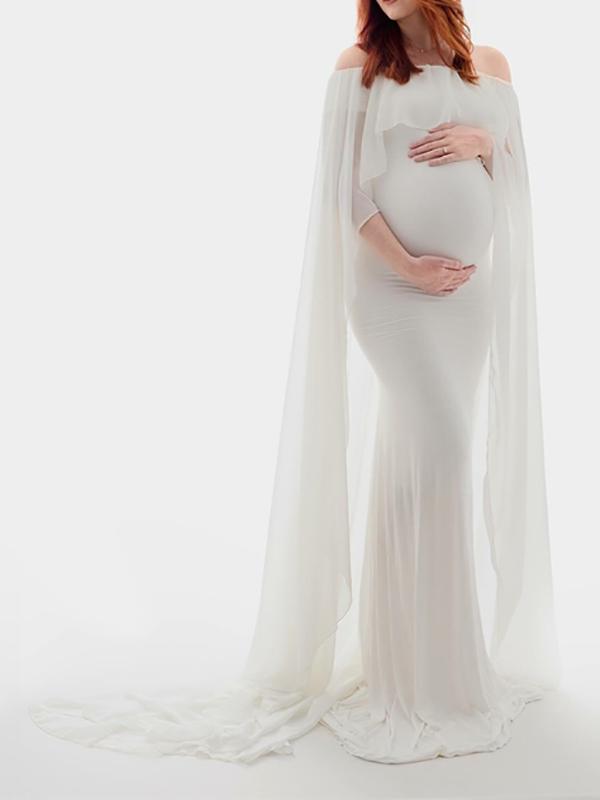 This Maternity gown with cape is perfect for your maternity photoshoot. You can get it customized in any color of your choice. The cape adds drama to the look.
Tips for Choosing Maternity Gowns for Maternity Photoshoot
Here are some tips to choose maternity gowns for your maternity photoshoot.
Choose Stretchable Fabric or Leave Margins
Mostly a maternity photoshoot is scheduled between 32-36 weeks of pregnancy. Since the size changes a lot during the last trimester due to bloating and obvious reasons ;), it is advisable to give margins on waist when giving measurements for your gown or choose a material that is stretchable.
Baby Bump Should Highlight
Select a maternity gown for the photoshoot gown that will highlight your beautiful bump. This is what you're celebrating in the end!
Avoid Printed Gowns for Photoshoot
Avoid floral or check prints on maternity gowns meant for photoshoot. It shall take the focus away from the bump.
Choose Solid Colors
Go with solid colors for your maternity photoshoot gown. The prints and patterns on gowns can make the photos overwhelming. Solid colors will help to highlight the bump. If you find solid colors monotonous, then accessorize with simple jewelry pieces.
Go for Gowns
Go for a full-length maxi dresses for photoshoot. It helps to focus on your beautiful baby bump and helps to conceal any 'problem regions.' You can choose between a halter neck, 3/4 sleeved, off-shoulder, or even sleeveless dress.
Color of the Gown should not Match the Background
Choose the color according to the location. Your gown color should not match with the surrounding. If you are doing photoshoot around trees and grass, you don't want your gown to be green. Try to find on Pinterest, similar backgrounds of your photoshoot and see what others are wearing.
Get Custom Made Gowns
Get your gown made in your size for your special day. You want your fit and length to be perfect. Dont' just go for bigger clothes. It shall give a bulky look rather than emphasing beautiful features.It's you special day and you deserve to get a beautiful gown in your size.
Comfort Cover Style
Choose comfort over style. Of course, you want to look perfect in your photos, but don't torture yourself by picking uncomfortable clothing, shoes, or pieces inappropriate for the weather. Your comfort and joy will show through in your photos and help make the photoshoot experience as fun and memorable as the actual photos.
Textured Fabric for Gowns
You can make your photos look more interesting by wearing clothing with different textures. It's a great alternative to prints or patterns and adds more dimension to your photos. You can wear lace gowns if you are not a fan of lycra and georgette fabric or get gowns made of two different fabrics.
I hope you found this article helpful and found your dream Maternity Gown for your Dream Photoshoot. Let me know in the comments if you know of any stores that do customised maternity gowns for photoshoot at reasonable prices? Also check our list of Affordable Maternity Brands in India if you are looking for everyday tops and dresses.