Best Baby Massage Oil in India
If you are looking for the Best Baby Massage Oil in India, you are on the right page. Most Indian moms massage their babies every day. Some before and some after giving them a bath. It's an Indian custom which all modern moms too follow. Choosing the appropriate baby massage oil for your newborn can make or break the experience. Massage oils both protect and moisturize your baby's fragile, delicate skin. Just because an oil is "natural" does not guarantee it is suitable for baby massage. They may or may not be suitable for the baby's skin.
If you are a new mom or mom-to-be, you will find here information related to the benefits of massage to babies, which massage oil to use for the same, and how to choose the oil for baby massage.
Benefits of Massage in Babies
Massage plays an important role in the growth and development of newborn babies.
It helps to make bones strong and develops a healthy body.
It helps the baby to sleep well.
It makes babies active and cheerful.
It stimulates blood circulation.
Premature babies, in particular, benefit from weight gain with a massage.
It soothes colic in some babies.
It also brings the mother and baby closer.
After knowing the benefits of massage for the baby, you may wonder which massage oil to use for the same? Which is the best oil for newborn baby massage? It is important to choose the right massage oil for your child. The incorrect choice may lead to adverse effects such as skin rashes and bacterial colonization.1
How to Choose the Best Baby Massage Oil ?
You can choose the Best Baby Massage Oil in India on several factors.
1. First, you should choose the massage oil on the basis of the weather of your location.
The oil that is good during the summer may not bring out the same results during the winter. Some oils can be used in all seasons.
Summer: Coconut, Sesame, Olive Oil
Winter: Mustard, Almond Oil, Olive Oil, Castor Oil
2. Second, you can choose the baby massage oil according to its benefits.
3. Thirdly, choose cold-pressed oils compared to refined oils as it retains the nutritional value.
4. Fourthly, vegetable oils which contain linoleic acid is good for your baby's massage, and vegetable oils that contain oleic acid are not good for the baby as they are harsher on the baby's skin. Unfortunately, the companies do not mention in their products that what type of fat it contains. Avoid using olive oil and sunflower oil on your infant if he or she has sensitive or dry skin.
5. Fifth, choose the massage oil according to your baby's skin: Normal, Oily, Dry, or Extra sensitive.
6. Always do a patch test before applying the oil to check for any adverse reaction.
Best Baby Massage Oil in India
You can select from a number of baby massage oils that are typically safe for a baby's sensitive skin. Use these massage oils to give your baby a massage and to moisturize their skin. Some may be better suited to your baby's skin than others depending on various factors listed above. In no particular order, the finest oils to use during a baby massage are:
Coconut Oil
Coconut oil is widely used for baby massage in southern India. It is a popular baby massage oil in every household.
On newborns, coconut oil has a cooling and relaxing effect.
It is easily absorbed by the baby's skin and doesn't clog the pores.
It is also an excellent choice for babies who have sensitive skin or problems such as eczema, rashes, or dermatitis.
It can also help with common problems like cradle cap and diaper rash.
It helps to treat baby acne.
It can also be used on bug bites to give relief from itching and burning sensations.
Sesame Oil ( Tilli ka Tel )
Most Ayurvedic oils are based on sesame oil. Sesame oil is also a great option for baby massage oil.
It keeps the skin soft and moisturized as it is easily absorbed by the baby's skin nourishing it from within.
It is rich in linoleic acid which is good for the baby.
It has anti-bacterial, anti-inflammatory, and antioxidant properties too.
It is helpful for babies with constipation. Massage with sesame oil helps in regular bowel movements.
It is rich in zinc which helps to increase bone density.
It has natural SPF properties
Olive Oil ( Jaitun ka Tel )
In recent years, Olive oil has become very popular in India as baby massage oil.
It acts as a great moisturizer for the baby's skin.
Olive oil is suitable for both summers and winters.
It is rich in vitamin E and vitamin K.
For babies with sensitive skin or extremely dry skin, it is not advisable to use olive oil. Olive oil is good for babies with normal skin.
It is also not advisable for babies with skin conditions like skin rashes or eczema, as it can aggravate the condition. 2
It is OK to apply olive oil on your baby as long as their skin is not dry or sensitive.
Mustard Oil ( Sarso Tel )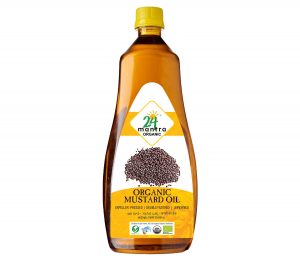 Mustard oil is also a very popular baby massage oil in the northern and eastern parts of India.
It is a popular massage oil in winters since it has a warming effect.
It also acts as a natural insect repellent due to its strong smell.
It also acts as a natural decongestant. Traditionally, mustard oil is heated with a small amount of garlic in the winter season. Then, it is used for baby massage to treat the common cold and cough. Some even add ajwain seeds.
It is antifungal and antibacterial.
There are some studies that show that mustard oil may not be good for sensitive skin.  3
It is thick and sticky which may lead to clogs on the baby's skin. Therefore, do not use in large amount for massaging your baby.
To get rid of the oiliness and stickiness, give a warm bath to your baby after the massage.
Almond Oil
Almond oil is an excellent baby massage oil. Vitamins A, B2, and B6 are abundant in almond oil.
Almond oil is also a good source of Vitamin E, which keeps your baby's skin soft.
It helps to improve the skin tone and good for lush eyelashes.
It is easily absorbed by the baby's skin.
It also helps to cure indigestion and upset stomach. Gently massage your baby's tummy with almond oil.
It is also good for the baby's bones and joints as it is rich in Vitamin D, potassium, and calcium.
It has a pleasant smell, unlike other oils.
Castor Oil
Castor oil is brilliant baby massage oil for babies with dry skin.
It is excellent for hair growth and is a great massage oil for a baby's hair.
It can also help in curing colic. Simply massage warm castor oil into the baby's stomach.
It is good for babies suffering from constipation.
It's important to make sure that it doesn't get ingested as it is toxic for consumption. Avoid castor oil if your baby has a habit of licking his fingers and hands.
Essential Oils
Essential oils is not an ideal baby massage oil. It should not be used on the skin directly. You need to apply with a carrier oil.
It is not suitable for newborn massage. It can be used for children over two years. Even then, a carrier oil should be used to dilute it.
According to some studies, essential oils can alter children's hormonal balance.
Ayurvedic Oil
Ayurvedic oils are blends of different oils and herbs and a good baby massage oil.
It is effective for the overall growth of babies.
Regular massage with Ayurveda oil helps in the growth of bones and strengthening of muscles.
Ayurvedic oils also improve sleep.
Mineral Oil
Mineral oils are derived from refining crude and are transparent liquid.
Minerals oils should not be used for babies. It does not penetrate the skin and instead forms a barrier on the surface.
It is good for babies with dry skin, eczema, or other skin issues.
Tips on giving your baby a massage
Always do a patch test. If you are using the oil for the first time on your baby, conduct a test patch the day before. Apply a small amount of the oil to your baby's inside elbow or stomach. Check the region after an hour or so to see if there is any reaction. If there is no adverse reaction, go ahead with the oil for massage.
The room in which you are doing the massage should not be cold. It should be warm enough for you to remove all of your baby's garments except their diaper.
Stop the massage if your baby becomes unhappy or fussy or sleepy.
Before using the massage oil on your baby, warm it up a little. If it's not too cold, leave it at room temperature and simply warm it up by rubbing your hands together.
Place your hands gently on your baby's tummy or chest. Use clockwise circular motions to massage his/her tummy and chest. After that, move on to your baby's arms or legs. As you massage, hold their wrist or ankle to support their arm or leg.  Stroke their body and limbs towards the direction of their heart. Always be gentle with a massage. Massage your baby's neck, face, and head softly with your fingertips only. Turn your infant over and massage the back of their neck.
FAQs on Baby Massage Oil
Can I massage my baby right after birth?
You can begin massaging your baby as early as the first week of his/her life with baby massage oil. Just remember to be gentle.
When is the best time of day to massage the baby?
Try to massage the baby mid-morning before bath. Follow the massage with a warm water bath which will make the baby relax and sleepy. Massage after a bath can sometimes result in a shorter session because the infant is already tired, hungry, or overstimulated.
How long should I massage my baby?
20 to 30 minutes is a good time for a massage. But don't expect your child to tolerate this on the first go, especially if they're young or you've just started massaging them. Babies will want to be massaged for longer periods of time as they grow more tolerant with age and experience. It takes time for them to recognize the signs that the massage is about to begin and connect massage as a pleasurable routine.
When should I not massage my baby?
If your infant is sick, has a fever, or has recently received a vaccine, you can skip massaging.  Also, avoid massaging your baby immediately after a meal or when he or she is unhappy or hungry. It is essential to establish good connections, so do not continue massage if the baby is unhappy or crying for any reason.
How regularly should I massage my baby?
Try to incorporate massage time into your baby's daily routine. Massage should become a regular part of his/her daily routine.
Did you find this article useful to find the Best Baby Massage Oil in India? Which oil do you use for your newborn's massage? Share your experiences with us in the comments section below.
Also Read Best Formula Milk for Babies in India