Affordable Cake Stand Available Online in India
Gone are the days when cake stands were available only abroad and in high-end stores. If you are looking to buy a Cake Stand online, you have found the right page. We have listed for you the Best Cake Stand available Online in India.
Buying Guide for Cake Stand
What is a Cake Stand?
A cake stand is a structural, stool-like structure used to display and serve cakes and other desserts. Cake stands are usually made up of a single plate attached to a pedestal or many plates arranged in a tower-like structure.
Types of Cake Stand
Cake stands come in various types. You'll need to know the types of cake stand available in order to pick the proper one.
Pedestal Cake Stand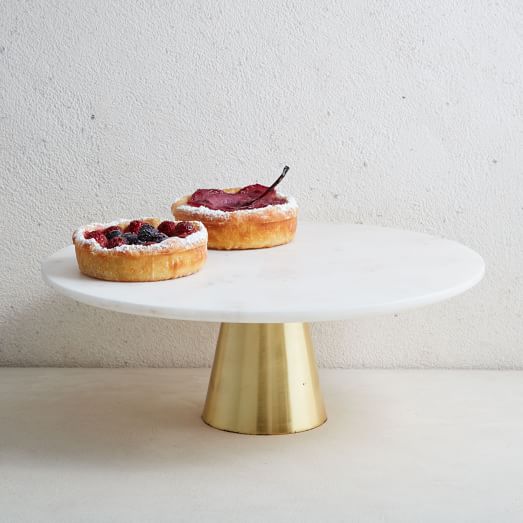 Pedestal cake stands are the most commonly used cake stand. It consists of the main base which is called a cake plate and a pillar underneath the plate. Some of them come with a glass dome.
Tiered Cake Stands
These are also called cupcake stands and are used to serve or display cupcakes and muffins. They are available in two-tiered stands, three-tiered stands, and even four-tiered stands.
Rotating Cake Stand
The rotating cake stand is commonly used by bakers and consists of a wooden cake plate supported by a regular plate with wheels underneath. This assists bakers in delicately icing and decorating the cakes.
Material for Cake Stand
Following are various sorts of materials used to create cake stands in a variety of simple and sophisticated designs
Wood
Metal
Marble
Resin
Plastic
Size of Cake Stand
The size of the cake stand depends on the size of the cake you'll be serving.
When picking a cake stand, the first requirement is to make sure it is at least the same size as the cake's bottom layer. It's fine if it's a little bigger, but it should never be smaller. You don't want to go too big too as it will interfere with the overall appearance of the cake.
If you are buying a cake from outside make sure the cake stand matches the size of the cake board, not the cake.
Prices of Cake Stand
Cake stands cost between INR 500 and INR 6000 in India, depending on size, color, material, and brand.
Why you should buy a Cake Stand ?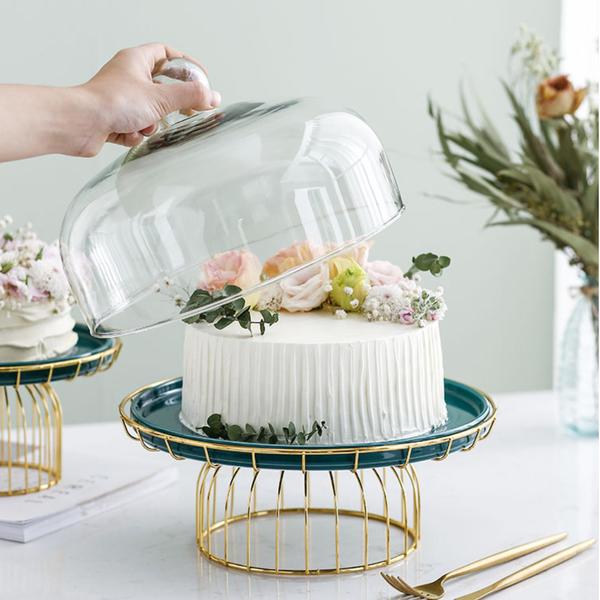 When a cake is placed on a cake stand, it looks so much better. A cake stand increases the appeal of a cake by elevating the height of the cake for better viewing. A good cake stand can transform your homemade cakes into professional-looking ones.
Alternative Uses of Cake Stand
You should definitely have a cake stand in your home. I find cake stands as a good investment for your home as they can be used over and over again for birthdays, anniversaries, and all kinds of celebrations.
Cake stands are not just for cakes. The cake stand can be used as a decorating plate for a range of baked goods, such as donuts, muffins, and cookies.
You can even use a cake stand in your bedroom, bathroom, or living room to make a candle arrangement. Place candles in a variety of heights and colors matching your décor on the cake stand. The cake stand also helps in protecting your table as wax drippings stay on the cake stand.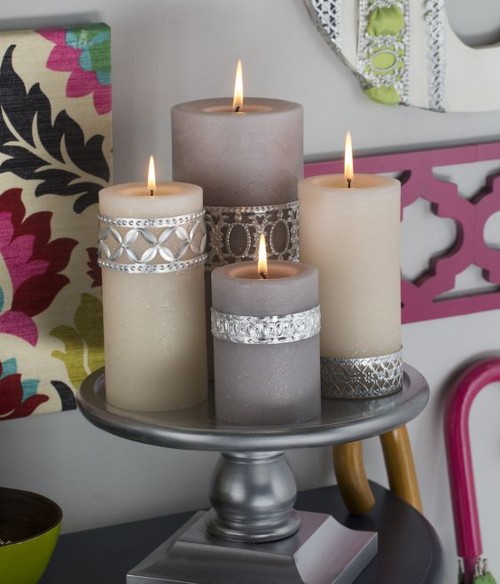 You can use a cake stand to add sophistication to your dining decor by decorating it with fresh flowers.
You can use a tiered cake stand to display fruits just like the picture shown below.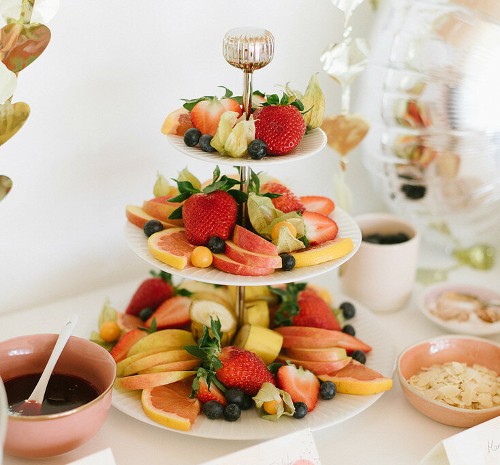 Not just sweets, you can even use them to serve pizzas and garlic bread too.
Best Cake Stand to Buy Online in India
Don't just randomly place your cake on any plate from your kitchen. Make your cake stand out with these beautiful cake stands. Here are a few of our favorite cake stand available online to display your sweet art.
Elan Dhoora Three Tier Cake Stand
Make a stylish display of your delectable cakes or cheese, tea time snacks, bread, and crackers with this three-tier cake stand available online. The stand's holder at the top makes it simple to pick, pass, and place the stand. This cake stand will definitely stand out at a party.
Nestroots Wooden Cake Stand
This wooden cake stand is a must-have in every home if you enjoy throwing the best parties and aren't willing to sacrifice elegance and quality. It is 12-inch in diameter and ideal for displaying 1/2 to 1 kg cake. Apart from cakes, it can also be used as a pizza platter or for serving muffins, cupcakes, and other delicacies. You can also use it to decorate flowers on the center table.
Acrylic Cake Stand with Dome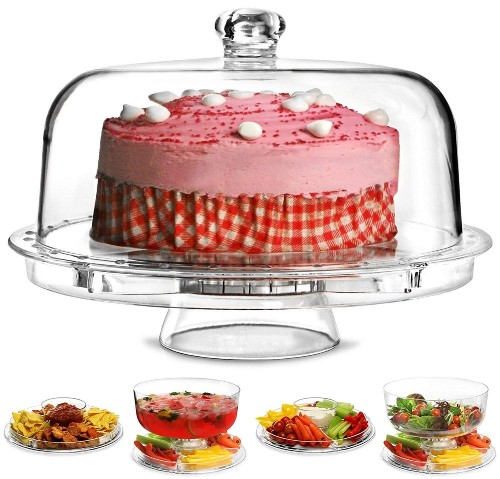 Now serve and store your cakes on the same dish. This acrylic cake stand available online is ideal for serving and storing your cakes, muffins, cupcakes, and pastries. Apart from the cake stand, it has multi-functional uses. Simply turn the dome or the plate upside down to make any type of plate. It can be used as a cake plate, a serving plate, a punch bowl, a fries and salsa plate, a salad bowl, and a bakery stand.
Wooden Cake Stand with Dome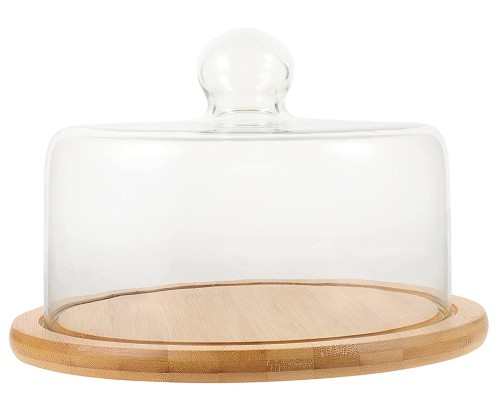 This Cake stand with a dome comes with a wooden plate and a glass lid. Put your tasty cakes and treats on the wooden tray and cover them with a clear cover. The lid can come in handy when flies are buzzing around your cake and desserts. You can use the wooden plate without a glass cover too. It can be used to serve fruits, bread, and cheese.
Ceramic Blue and White Cake Stand
This beautiful cake stand available online is sure to sparkle on your table, whether you're celebrating a birthday, wedding, or milestone! It has an elegant appeal with a ceramic top and a wood base. This stand is available in three options- small, medium, and large.
Resin Cake Stand with Server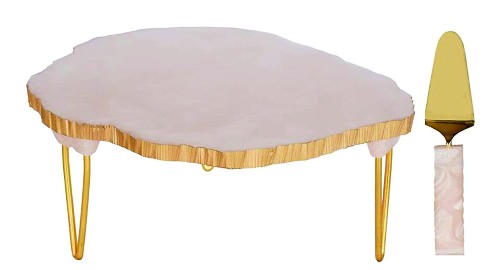 This resin cake stand is a modern spin on the classic cake stand. It is sure to make your serving move up to the next level. It comes with a server and has detachable legs.
Axiom Metal Cake Stand with Spoon
This metal cake stand features a white top and a metallic gold base. The base features a modern art silhouette that will add to the sophistication of your dining and serving experience. It is around 8 inches in diameter and ideal for serving small cakes.
Ellementry Marble Cake Stand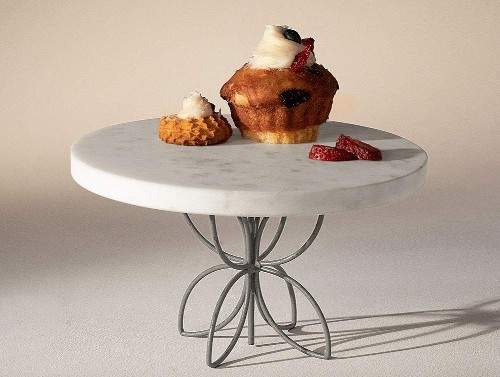 Impress your guests by serving your freshly baked cake, biscuits, or other delectable delicacies on this beautiful and exquisite marble cake stand available online. Ideal for birthday and tea parties, this white marble cake stand with a metal base will surely elevate your table decor. It has a smooth marbled surface and a strong base.
Elan Cake Stand
Present your food in style and impress your guests with this beautiful pink cake stand. This cake stand will turn any wedding, party, baby shower, birthday, anniversary, afternoon tea, or any other event into a full-fledged celebration. The lacy look and intricate casted bottom give a bakery kind presentation.
Kraftyhome Wooden Cake Stand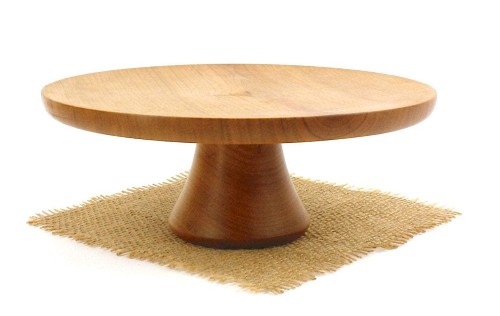 With this wooden cake stand, you can present your next birthday cake in style. The surface top is wide enough to display your favorite cakes, desserts, pastries, and a variety of appetizers. You can even use it as a cheese serving platter. The serving stand is of premium-quality acacia wood that gives it a natural look with warmth and rustic elegance. The big pedestal base provides a stable platform while cutting.
Coral Tree Marble Cake Stand with Brass Stand
Enhance your cake's appearance on this beautifully carved round cake stand available online with a brass stand to show off your baking skills. Your baked items will steal the show on this stand, at any wedding, birthday party, baby shower, anniversary, and more! The marble and brass combination will complement both modern and contemporary decor well.
Two Tier Wooden Cake Stand
This wooden cake stand with a metal rod is stylish, functional, and ideal for serving cakes, bread, cheese, fruit, and canapes. The combination of wood and gold metal gives it an elegant look. The two-tiered pastry stand gives a variety of sizes for surface space at each level. The handle at the top makes it easy to carry.
Rotating Wooden Cake Stand
This rotating wooden cake stand available online can be used as a cake stand as well as a turntable. If you compare it to plastic and fiber turntables, this wooden turntable is way better. It rotates 360 degrees which help in easy decorating and the wooden finish makes it ideal for displaying any style of cake. It is 12 inches in diameter. Additionally, you can also use it as a revolving tray for the dining table.
Blue Pedestal Cake Stand
This blue, vibrant, and fun cake stand will provide a charming touch to any party, event, or wedding. It is 11 inches in diameter which allows you to handle all standard-size cakes or other desserts. It is 7 inches tall which gives a tall effect.
Hope this list of Best Cake Stand available Online in India helps pick the right one. Your passion for baking cakes requires the purchase of a cake stand. Give the cupcakes the lovely stand they deserve!