Frozen Ocean Animal Rescue Activity
This frozen ocean animal rescue activity is the best activity for summers. It is sure to keep your kids entertained on a hot day! Kids of all ages will love this activity. It's easy to set up and will have your child melting ice with salt and water to free ocean animals from a frozen block of ice.
Besides being fun they will also learn many things from this activity.
Names of Different Ocean Animals
What is Excavation?
What makes the ice melt faster?
This activity takes advance planning but is easy to set up.
Supplies Required for Frozen Ocean Animal Rescue Activity
Sea Plants (Optional)
Sea Shells (Optional)
Water
Blue Food Color
Plastic Container
Directions for Preparing Frozen Ocean/Ice Block
Take a plastic container and fill it half with water.
Next, add a little drop of blue food color to give a look of the Ocean.
Now place ocean animal figures into it and place it in the freezer. As the animal figures will float in water, we will freeze it in layers and add more water and figures each time. You can even add seashells and sea plants. The freezing time will depend on your refrigerator. I froze it overnight.
After it is frozen, take it out and fill it more with water and add more animal figures.
Place it again in the freezer and freeze it again.
Remove the frozen ocean ice block in a tub. In case your ice block is stuck in the container let it sit outside for few minutes or add little warm water along the sides of the container.
Frozen Animal Rescue Activity
I would recommend you do this activity outdoors as it will be messy.
I told my son that the sea animals were stuck in the frozen ocean and he has to rescue all of them. To help him in doing so he can take the help of different excavation tools listed below
Warm Water in Spray Bottle
Toy Hammer
Toy Screwdriver
Salt
At this stage, I told him what is excavation? I told him excavating is digging to uncover things. He can use his hammer and screwdriver to dig and scrape ice.
I told him salt helps to melt ice. In some countries, during the cold season salt is used to melt snow and ice on roads.
Also if he sprays warm water on ice, it will help him to melt the ice. Therefore, if he wants to melt the ice, he can rub salt over it or spray warm water on it.
Armed with his tools, he began excavating the animals. First, he started with a hammer and screwdriver. But the ice was very hard. He was finding it hard to break the ice. If you have safety goggles, please use them for eye protection.
I told him he needs to melt the ice. So he rubbed salt and sprayed warm water over the ice block. Finally, the ice began to melt. Then he started excavating again with his hammer and screwdriver. Finally, the animals began to come loose. He started rescuing one by one. I asked him to identify every animal he rescued.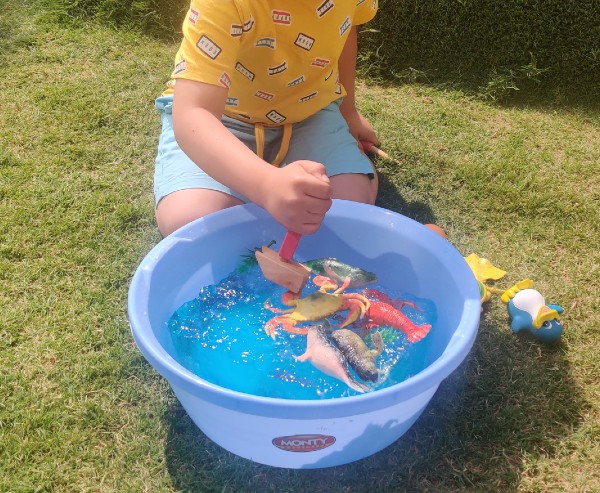 Alternate Ideas
Instead of animal figures, you can use petals, dinosaur figures, and magnetic alphabets too.
The ice takes a while to melt so they'll stay entertained for a good one hour at least. I made our ice block quite big. So he was engaged in this activity for two hours. I must say I was truly impressed with my son's perseverance. He did this activity from start to finish for two hours.
My son enjoyed this activity and asked when he can do it next. I hope you find the Frozen Ocean Animal Rescue Activity interesting and do it with your kids. Please let me know in the comments if you will try it.