Best Sports Shops in Jaipur
Are you looking for Sports Shop in Jaipur? Well, then you need to check out our list of the Best Sports Shops in Jaipur.
Jaipur can now boast of some fantastic sports stores that sell state-of-the-art sports equipment. Whether you are taking up swimming lessons, skating, table tennis, lawn tennis, badminton, cricket, football, or planning to go on a camping trip just make a list and buy everything from these super-cool sports stores in Jaipur that cater to all your sports-related needs. They have everything you need, whether it's weight training equipment or something as simple as a cricket bat.
List of Best Sports Shops in Jaipur
Here's a list of the Best Sports Shop in Jaipur if you're starting a new sport or returning to an old one, or planning to buy sports equipment for your child.
Decathalon
Decathalon is considered to be one of the world's largest and top sporting goods retailers and it has set its foot in Jaipur too. There are two Decathlon Stores in Jaipur. One on Ajmer Road and the other in Jaipur Center Mall on Tonk Road. It is your one-stop sports shop in Jaipur for all kinds of sports equipment, accessories, and apparel. Apart from typical sports equipment like cricket, basketball, football, skating, and tennis you'll also find bicycles and mountaineering equipment. You name it and they have it. It has a large floor space where you can actually test out equipment too.
Decathalon Ajmer Road
Address: Khasara No. 1123, Ajmer Road, Gram, Bhakrota, Jaipur, Rajasthan 302026
Contact Number: 095383 99044
Decathlon Jaipur Center
Address: Jaipur Centre Ground Floor B-2 Byepass & Tonk Rd Junction, NH21, Chandrakala Colony, Durgapura, Jaipur, Rajasthan 302018
Contact Number: 084319 10066
Titus Sports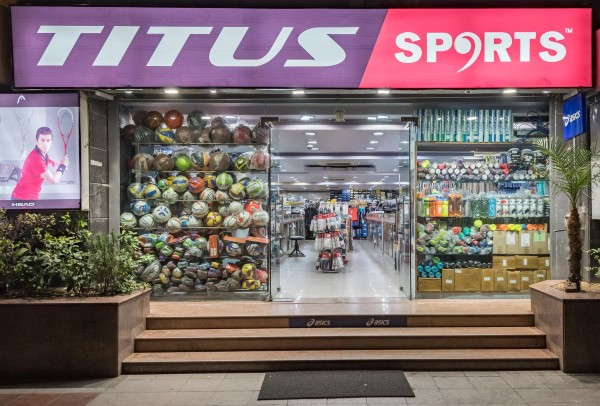 Titus Sports has around a decade of experience in the sports industry. It's a one-stop-shop for all your sporting goods needs. You will find the best international brands and domestic ones too, all under one roof here. They offer high-quality items at very reasonable prices. The best part is their friendly staff. The shop sells sportswear and equipment for practically all of the sports that are popular in India. Swimming, football, squash, badminton, cricket, and tennis are among their specialties. They even stock sports apparel and weights. They even repair the strings of badminton, squash & tennis rackets within minutes.
Address: SB-52 Krishna Enclave, Tonk Road, Bapu Nagar, Underneath Fedbank, Jaipur, Rajasthan 302015
Contact Number: 0141 400 6169
Adarsh Sports
Adarsh Sports Store is also a popular sports store among Jaipurites. One of the oldest sports stores in Jaipur, it has plenty of expertise working with customers and guaranteeing their satisfaction. They have a large selection of sporting goods, all of which are reasonably priced. Apart from rackets, bats and balls you will also find t-shirts, tracksuits, wrist bands, and sports jerseys. They also provide stringing and repairing services for tennis, badminton, squash rackets. They are also known for repairing and knocking of cricket bats.
Address: B 12, Govind Marg, Anand Puri, Bees Dukan, Adarsh Nagar, Jaipur, Rajasthan 302004
Contact Number: 0141 400 9800
K.K.Sports
For people living in and around Vaishali Nagar, the KK Sports store is a one-stop sports store in Jaipur for all sporting needs. The store may not look fancy but you'll find sports goods all around you. This store sells a wide range of gear and accessories for various sports including cricket, badminton, squash, lawn tennis, swimwear, and sports jerseys.
Address: Vinayak Enclave, G-4, F Block, PP-2, Vaishali Nagar, Jaipur, Rajasthan 302021
Contact Number: 098872 92828
Prime Sports
This recently opened sports shop in Mansarover boasts of some amazing sports goods, accessories as well as fitness and training equipment. It has everything you'd expect to find in a sports store. They have all of your sporting goods covered including badminton, football, tennis, table tennis, swimming, squash, and fitness equipment. You simply need to go to this store and leave with the items you require.
Address: 24/142, Swarn Path, opp. Tagore vidhya bhawan, Sector II, Swarna Path, Shukalpura, Mansarovar, Jaipur, Rajasthan 302020
Contact Number: 094611 64394
B1 Sports
B1 Sports deals with sports goods, sportswear, and accessories. They deal in both, well-known as well as indigenous brands. From badminton, squash, tennis rackets to cricket bats and other sports equipment and sportswear you will find all here.
Address: AB-411, Kings Rd, Block A, Nirman Nagar, Brijlalpura, Jaipur, Rajasthan 302019
Contact Number: 070620 55111
Pelican Sports
Pelican Sports is also a well-known sports shop in Jaipur. At Pelican Sports you will find fitness equipment, sportswear, and sports accessories of well-known brands. Along with cricket, high-quality equipment for a number of other sports like tennis, basketball, badminton, and more is available. Whether you are looking for reliable shoes, jerseys, or even something as simple as a ball, they have got it all here.
Address: 55, Tonk Rd, opp. Nagar Nigam, Everest Colony, Vidhayak Nagar, Lalkothi, Jaipur, Rajasthan 302015
Contact Number: 0141 491 4666
Krishna Sports
Krishna Sports have good quality products at reasonable pricing. They have got equipment for all popular sports from cricket, football, basketball and tennis. They sell all popular sports brands in their store.You will even find sportswear here.
Address: Plot No 3/3A,Ground Floor Surya Nagar, Gopalpura Bypass Rd, near Mahesh Nagar Thana, Gopal Pura Mode, Jaipur, Rajasthan 302015
Contact Number: 9829449492
Now you can't complain that Jaipur doesn't have good sports shops. So what are you waiting for? Go ahead and buy from these sports stores and play non-stop!
Also, check our list of Best Soft Play Area for Kids in Jaipur