Famous Polki Jewellery Shops in Jaipur
Polki jewellery is quite popular among millennial brides who want to appear traditional and majestic on their wedding day. If you are a bride to be and based in Jaipur or planning to come to Jaipur for your bridal jewellery shopping, then this list of Famous Polki Jewellery Shops in Jaipur will surely help you.
Jaipur is known for Polki jewellery. Polki jewellery is made of unfinished diamonds in their natural form. When these rough diamonds are polished and chemically treated, they resemble polished diamonds. Polki has a slightly rustic colour as compared to chemically and lab-processed diamonds and gives a vintage feel. Polki jewellery is made with gold foil that has intricate designs on the reverse, and the uncut diamonds are then placed in the gold foil. It has meenakari work on the underside, adding to its appeal and value.
Famous Polki Jewellery Shops in Jaipur
Here is our list of famous Polki Jewellery Shops in Jaipur in no particular order.
Birdhichand Ghanshyamdas Jewellers
Birdhichand Ghanshyamdas Jewellers is a leading luxury Polki jewellery brand based in Jaipur. The devoted brand is one of Jaipur's oldest jewellery firms. It is currently run by its third generation and has a two-story showroom in the heart of Jaipur. Birdhichand is known for stunning bridal pieces and spectacular designs in polka jewellery. Their designs have a mix of a traditional and contemporary feel. They have wonderfully re-interpreted centuries-old traditions of art via innovative designs, contemporary adaptations, and edgy creativity. It is a must-visit place for wedding jewellery. Its clients include a slew of A-list Bollywood celebs.
Raniwala 1881
In the polka jewellery industry, Raniwala 1881 is a well-known name in Jaipur. It is well-known for producing heirloom-quality heritage jewellery. Rai Bahadur Champalal of Beawar began the rich history of Raniwala 1881. The British gave him the title of 'Rai Bahadur' and the mark of 'Raniwala' in the 19th century. His passion for exquisite jewellery has been passed down through the generations, and it has become a hallmark of the Raniwala family. Their designs are intricate and detailed. Apart from traditional Polki designs, they have modern designs in Polki and Kundan too for millennial brides. You may have seen their jewellery on Jahnvi Kapoor, Alia Bhatt and renowned supermodel Winnie Harlow. Their store is stunning, with a double-height ceiling, a vintage backdrop, and an entire section devoted to bridal jewellery.
Bhuramal Rajmal Surana Jewellers
Surana Jewellers are the pioneers in Kundan and Polki jewellery. Suranas are known for their Kundan Meena jewellery as well as their use of uncut diamonds and other natural gemstones in gold studding. Since 1735, the Bhuramal Rajmal Surana family business is synonymous with the art of Kundan and Meena jewellery. Today it is managed by the seventh generation. Almost three centuries ago they were invited by Mahara Sawai Jai Singh II to Jaipur to promote the art of Kundan in Jaipur. It has a huge collection of Kundan, Polki and Meena jewellery and a must-visit place for the bride to be.
Sunita Shekhawat
Sunita Shekhawat is considered "The Modern Meenakar" by many. Her label is recognised for its modern take on traditional Kundan-Meena art. She has won various awards in the jewellery industry for her designs. Her designs are a blend of contemporary and old art and known for intricate meenakari work. She does a mix of Kundan and Polki with Meena. Unlike traditional meenakari, which is generally done in green or red, Sunita Shekhawat's designs are done in unexpected colours including pink, black, blue, and even white. She is also known for producing reversible jewellery, which has a completely distinct effect on both sides but is equally beautiful on both. It is open only by appointment.
The Gem Palace
The Gem Palace was founded in 1852 by the Kasliwal family of Jaipur. It is known for producing some of the world's most extravagant jewellery. The Gem Palace even creates jewellery for some of Europe's and America's most prestigious jewellery firms. Whatever you're looking for, whether it's traditional, vintage, or contemporary, you'll find it here. The family business boasts nine generations of jewellers, and their collection has been displayed at the Metropolitan Museum of Art in New York also. Emperors, monarchs, queens, presidents, and movie stars have all adorned jewels from the Gem Palace. Their divine collection of Polki jewellery will definitely make you feel like a Princess.
Umrao Jewels
Umrao Jewels is a family-owned jewellery business started by Shri Umrao Mal Shah and currently run by third generation. Traditionally they were into cutting and polishing sapphires, rubies and emeralds, but now have branched out into jewellery making as well. It is well known for Polki, Kundan, Meenakari, Art Deco and Art Nouveau jewellery. There are both modern and traditional styles available for you to select from. Personally, I love their navratna collection. A must visit place for the bride to be.
Rambhajos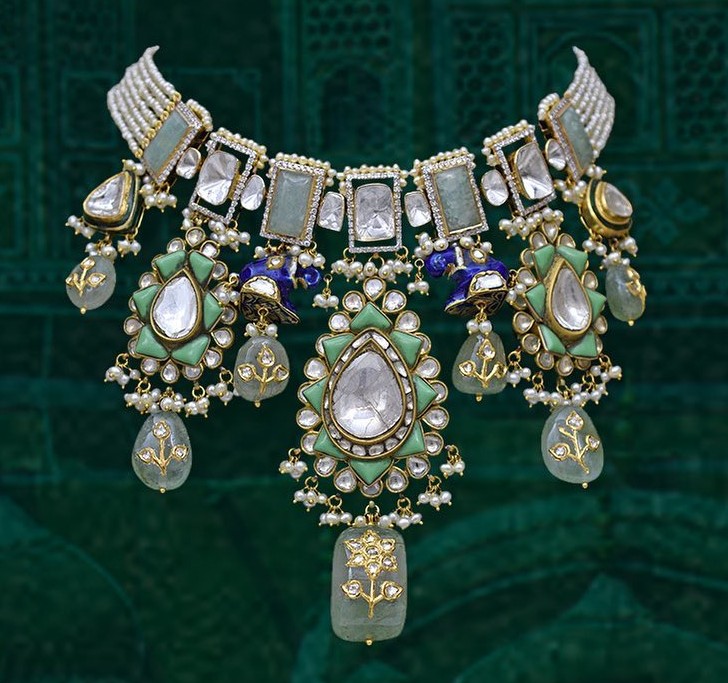 Established in 1921, Rambhajos is an established brand of Jaipur. Rambhajo is a family-owned enterprise that has been passed down through four generations It was traditionally into wholesale manufacturing of Kundan and Polkis. You will find here a beautiful collection of Kundan, Meena, Polki & fine diamond jewellery. It is well known for historical-inspired bridal trousseau jewellery.
Kalajee Jewellery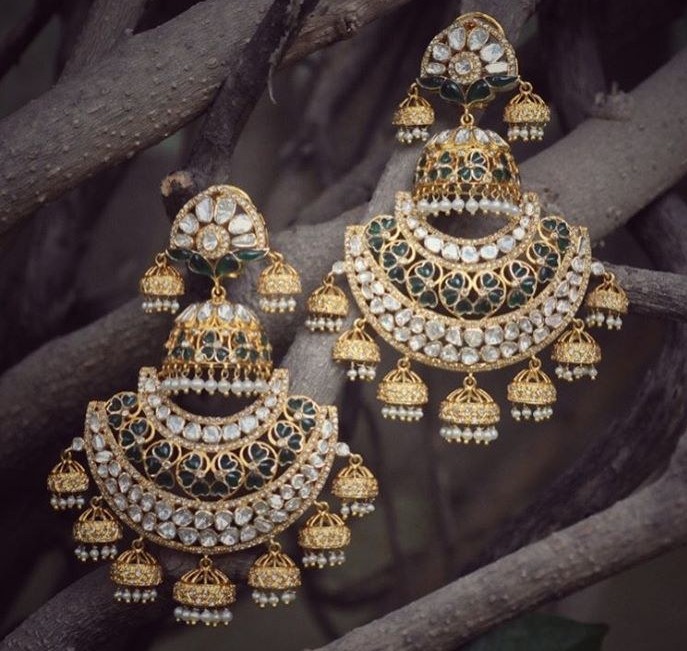 Kalajee is a renowned jewellery brand of Jaipur founded by Mr Vivek Kala. They have won numerous accolades for jewellery designs, the most recent of which was in the Minimalist Jewellery Category at the JJS-IJ awards. Their designs speak modern yet traditional. They are majorly known for their wide designer collection of earrings. You may have seen their designs on Bridal Asia and Vogue.
Rawat Jewels
They are one of the most sought after names in Polki wedding jewellery in Jaipur. Run by the eleventh generation, Rawat Jewels has experience in the jewellery industry for more than two and a half centuries. Their magnificently crafted masterpieces will surely catch your eye. They regularly exhibit in Bridal Asia too. It is famous for its unique combination of traditional and contemporary styles.
Address: 14, Jawahar Lal Nehru Marg, Tilak Nagar, Jaipur, Rajasthan 302004
Contact Number: 0141 262 0051
Website: http://www.rawatjewels.com/
Facebook: https://www.facebook.com/rawatjewelsjaipur/
Instagram: https://www.instagram.com/rawatjewels/
Polki Jewellery Shopping Guide
For people who are confused between jadau, kundan and polki here is a simple guide.
Jadau isn't a type of jewellery. Jadau is the art of making Kundan and Polki. Although Kundan and Polki jewellery appear to be extremely similar, they are very different! Both Kundan and Polki jewellery have a base of 24k gold foil. Kundan jewellery is made with gemstones and glass, whereas Polki is made with uncut, raw diamonds that have not been processed. Polki diamonds are less expensive than finished diamonds used in diamond jewellery but more expensive than Kundan jewellery.
Always book an appointment before going to the jewellery store.
You are not allowed to take photographs of the jewellery pieces. But you can always ask them to give design number so that when you go back, the jewellery store can easily identify the jewellery piece incase you make a decision to buy it.
Wear a V neck blouse or top for trials. With collared shirts and blouses you won't be able to get the proper look of necklaces.
I hope this small guide on Famous Polki Jewellery Shops in Jaipur is helpful for you. We also have a List of Best Bridal Lehenga Shops in Jaipur.