Best Bridal Lehenga Shops in Jaipur
If you are on the lookout for the best bridal lehenga shops in Jaipur, then this list is curated just for you.
Jaipur has something for every bride. It is an excellent destination for your lehenga shopping. If you are coming from outside of Jaipur and wondering where to shop for your bridal lehenga, take a look at our list of best bridal lehenga stores in Jaipur. Since I am from Jaipur, this information has been compiled from personal experience. I have accompanied many brides for their bridal lehenga shopping.
Let's start off with the list without any further ado.
List of Best Bridal Lehenga Shops in Jaipur
1. Pratap Sons
This is a huge three-story store and you will find everything from lehengas, gowns, sarees, anarkalis, and indo-western wear in their collection. With respect to bridal lehengas, they have a really great range of bridal wear lehengas.  You get the best and latest designs at reasonable prices. Why do I say reasonable prices? Because when you compare them with designer wear, they provide you with the same quality as any other higher-level brands but at low prices than them. The quality of work is really good. Expect Bridal Lehengas to be around Rs. 70,000 and more. Prices are fixed here and bargaining isn't an option. They also have an online store where you can check their collection.
Address: SB 39, Rambagh Circle, Tonk Road, Jaipur 302004
Contact Number: 77289 22221
Website: www.pratapsons.com
2. Vasansi
Vasansi is a popular store for bridal wear. It has a beautiful showroom of three floors. They have a wide range of traditional wear from sarees to anarkalis, indo westerns, and lehengas.  They have a dedicated floor for everything. You would be blown away by their huge lehenga collection. Their bridal lehenga collection is extensive and trendy. There is something for every bride. Some of the lehengas that I saw at Asiana couture in Chandni chowk, I found it here at less than 10 %. They have the biggest collection of bridal lehengas and it will take you time to select your lehenga. Expect bridal lehengas to start at Rs. 60,000 and go up to Rs. 3 lakh depending on the work and design.
They also have an extensive collection of lehariya , mothada and bandhej sarees. They also have an online store for international buyers.
Address: D-69A, Jawahar Lal Nehru Marg, near Teen Murti Circle, Jaipur, Rajasthan 302004
Contact Number: 0141 663 1200
Website: www.vasansi.com
3. Swati Ubroi
If you are looking for designer wear, then head to one of the prominent names of Jaipur, Swati Ubroi. She is known for her heavy gotta Patti bridal wear and sarees. Just like any designer wear, expect her lehengas to be expensive. It starts at Rs.1 lakh. She does beautiful gotta patti, zardosi, thread work, and zari work on bridal wear collection. Apart from bridal lehengas, you will find light lehengas, sarees, anarkalis and gowns too. She regularly exhibits at Bridal Asia. Check out her Instagram to check her beautiful collection.
Address: C 25, Bhagwan Das Rd, Panch Batti, C Scheme, Ashok Nagar, Jaipur, Rajasthan 302001
Contact Number: 99291 12400
4. Ranas
Ranas is one of the oldest saree shops in Jaipur. Everybody in Jaipur knows about this store. There are two stores. One at Ganpati Plaza & the other at Johari bazaar. Both offer bridal trousseau . They have the best collection of leheriya and bandhani sarees and at very reasonable prices. If you are looking for a traditional wedding look it is the perfect place to visit. They do beautiful gota work , zardosi, danka work and  intricate thread embroideries on their lehengas. Their bridal collections start at Rs.40,000/-.
Address 1: 1, Ganpati Plaza, M.I.Road, Jaipur- 302001
Address 2: Rana Saree Emporium, 202,203 Johari Bazaar, Jaipur
Contact Number: 9001290900
Website: www.ranas.com
5. Nikhaar Fashions
If you are looking for pocket-friendly bridal lehengas, you should not miss Nikhaar Fashions. This store is located in Saraogi mansion and they have attractive and beautiful lehenga designs. The best part is that these lehengas come under the budget that you had set for yourself. You can also visit the store to find lighter outfits for your pre-wedding functions like Mehendi and Haldi.
Address: Saraogi Mansion, Ground, MI Road, near Ashoka Furnishing, Jaipur, Rajasthan 302003
6. Roop Laxmi
Roop Laxmi is one of the busiest shops in Johari Bazaar located in the heart of Jaipur. You would be blown away by their huge range of collections available at unbelievable prices. They offer a fantastic range of lehengas and sarees at reasonable prices. It is popular for brides with a budget of under 1 lakh. Their collection consists of both heavily sequinned and embellished pieces to lighter ones. It is also a good place for the mother of the bride and bridesmaid to shop for lehengas. To get the most exquisite yet affordable lehengas, you have to visit this store.
Address:  181, Johari Bazar Rd, Tripolia Bazar, Pink City, Jaipur, Rajasthan 302003
Contact Number: 0141 256 6201
7. Saffron by Nidhi Tholia
If your budget allows you to spend more than Rs.80,000/- on your wedding lehenga, then a visit to this beautiful Nidhi Tholia store should be on your list. Another famous designer of Jaipur, she does intricate gotta patti work and embroidery design on her bridal wear collection. Her designs are also available at Ogaan store.
Address: J-50/A, Sarojini Marg, Opposite Beauty Creation Parlor, Panch Batti, C Scheme, Ashok Nagar, Jaipur, Rajasthan 302001
Contact Number: 98290 14566
8. Surbhi Shah
If you have a fixed budget for your lehenga yet want something designer then head to Surbhi Shah. She does traditional work in pastel colours. Your bridal shopping would be incomplete if you missed paying a visit to this store. She regularly exhibits in all the major wedding exhibitions.
Address: B-49 A, Prabhu Marg, Tilak Nagar, Jaipur, Rajasthan 302004
Contact Number: 96670 90000
9. Faabiiana
If you have always dreamt of wearing a designer bridal lehenga on your big day, then Faabiiana is a must-visit. Here, you can expect to find a fusion of the very best of conventional and contemporary bridal outfits. You may have seen many celebrities adorning Faabiiana outfits. I personally love their intricate work. Their collection can be found at Ogaan stores too.
Address:AB – 8, AB – 17 & AB – 17A, Nirman Nagar, Above Pradhan Electricals Ajmer Road, near Axis Bank, Rajasthan 302021
Contact Number: 097831 99999
10. Zari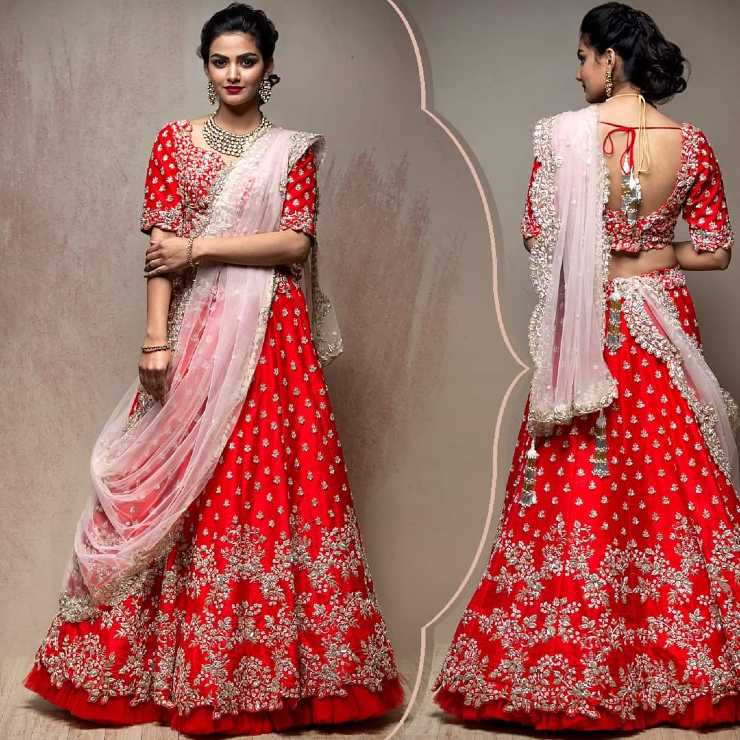 Zari is another popular lehenga store in the city. If you have a decent budget and looking for a traditional wedding lehenga, then you should consider visiting the same. They also stock bridal gowns, sarees , anarkalis and indo westerns. You can shop for your wedding as well as pre-wedding functions here.
Address: 10/11, Narayan Singh Circle, Tonk Rd, Jaipur, Rajasthan 302004
Contact Number: 0141 515 8500
Website: www.zarijaipur.com
These are the popular bridal lehenga shops in Jaipur which will help you narrow down your list. Wedding shopping can be quite overwhelming and not to mention tiring. Hope this list is helpful to you.
Let me know in the comments. Which store did you like the most? Also check list of Famous Polki Jewellery Shops in Jaipur.