Best Board Games for Toddlers and Preschoolers in India
Here you will find the list of Best Board Games for Toddlers and Preschoolers in India.
Board games for three to five years old kids can be really tricky. If it is too easy, kids may not be very interested to play and if it is too complex, they may get frustrated and not at all show interest in playing. Also, the options online are so many that you may get confused about which one to pick up.
For Toddlers and Preschoolers board games, I have realized they love games with simple instructions and games which are fast-paced.
They have a short attention span and cannot sit in one place for a long span of time. You may find some of their games as silly, but trust me sillier the game, the more they enjoy.
There are many benefits of playing board games, Please check our link here.
Why you should play Board Games with Toddlers and Preschoolers?
Here you will find my list of the best board games for toddlers and preschoolers in India. We own all of these. They have been tried and tested by us. Most of them do not require reading skills, which makes them appropriate for this age group as in India kids start learning reading at five years. Not only will your preschooler love these board games, but you will too.
List of Best Board Games for Toddler and Preschoolers in India
1) Funskool Candyland Game
Amazon Buy Link : Shop here
Age: 3+
This is a classic game for young kids. No reading skills are required for this game. Therefore, your three year olds can also play this game.  The objective of the game is to reach King's castle. Whoever reaches the castle first is the winner. Kids need to pass through the peppermint forest and the ice cream sea to reach the king's castle. Here the child draws coloured cards to move ahead instead of dice.
2) Kids on Stage
Amazon Buy Link : Shop here
Age: 3+
In this game, the players have to act out like animals, objects, or actions while the other players guess. For this, it is not necessary that kids need to know reading. This game is enjoyed by kids because they don't have to sit in one place for a very long time. When it is their turn they get up and act out the pictures on the card. This game is super fun.
3) Sequence for Kids
Amazon Buy Link : Shop here 
Age: 3+
Just like kids on stage, even if your child can't read he/she can play this kids version of a popular sequence game. In the kid's version, instead of a regular deck of cards, the pictures are of different animals.
You have to play a card from your hand and then place a chip on the matching game board space and when you have 4 in a row, it's a "sequence" and you win. This is a great strategy-building game.
Initially your 3 year old may not understand the concept of 4 in a row vertically, horizontally, diagonally. But when you will play the game many times he/she would.
4) Charades for Kids
Amazon Buy Link : Shop here
Age: 3 +
This game is quite similar to kids on stage. It has colourful pictures as well as words written on the cards. The goal is to get someone to guess the word or action that you are acting out before the timer runs out. The kids who haven't yet learned reading can act out the picture on the card, while players who can read have three different words as an option on the cards. This game is great for the whole family to play together.
5) Snakes and Ladders
Amazon Buy Link : Shop here 
Age : 3+
Snakes and Ladders has been loved by generations. It has been a part of every Indian family. This board game will help your child to learn counting too besides being so entertaining. Even if your child is too young to understand the numeracy he will enjoy rolling the dice.
6) Dobble for Kids
Amazon Buy Link : Shop here 
This is a fun and challenging game also popularly called spot it. The idea of the game is super simple. All the cards have a set of pictures on it. Every card has a matching picture with another card. The challenge is to find the picture which matches with the other card before someone else does. There are some other variations of the game too given in the instruction booklet, all of which are fun and easy to learn.
7) Toiing Spytoi
Amazon Buy Link : Shop here
Age : 4+
Each card has three objects on it. The players have to find the objects on the board. The main focus of the game is learning about emotions. There are many variations that can be played.
You can play it with each player looking for the objects on the card one at a time, all players looking at the same time or you can split the players into teams and then play the game .This game focuses on teaching children to be kind, courteous and develop EQ.
8) Hoot Owl Hoot
Amazon Buy Link : Shop here 
Age: 3+
Now there is a trend of cooperative games in the market, atleast in US where you need to work together to win. The goal of the game is to work together to get the owls back to their nest before the sun comes. In this game there is no loser which is the best part. I was gifted this game by my sister in law living in US. On amazon, it is very expensive. Totally not worth to spend more than Rs. 2000/- on it . Probably you can ask somebody coming from US to get this board game.
9) Classic Jenga
Amazon Buy Link : Shop here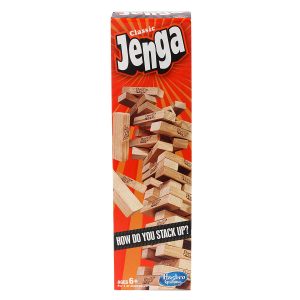 Age : 4 +
This is a classic wooden blocks game. The kids also have as much fun as adults when playing this game. Just make a sturdy tower out of these wooden blocks and pull out blocks one by one  until the whole tower crashes down. Each block which is removed will have to be placed on top of the tower  making the structure taller and instable. Four years is the perfect age to introduce this to your kids.
10) African Safari
Amazon Buy Link : Shop here 
Age: 4+
This is a good memory skills game. The players have to reach the last piece by finding photos of the animals on their route in the order they are arranged. It can be little challenging to recollect the animal names and photos as Indian kids are not very familiar with African animals. But this is also a good way of learning about them.
I hope this list of  board Games for Toddler and Preschoolers in India is useful to you.
Do you know of any more of good board games for toddlers and preschoolers which can be found in India? Please let me know.