20 Best Baby Shower Gift Ideas for Mom-to-Be in India
Is there a baby shower event you have to attend to and you are wondering what thoughtful Baby Shower Gift Ideas you can give to the mom to be? Our Baby Shower Gift Ideas list is exactly what you need to find the ideal baby shower gift. We've compiled a list of fantastic baby shower gift ideas for both the new mom and the newborn available in India. If the newborn has an older sibling, remember to get him something too to celebrate his new role as a big brother or sister.
The difficult part is choosing a baby shower gift is that you want to find something that is not only pleasing to look at but also useful to the mom-to-be. According to me the best gifts are those that are both pleasing to the eye and functional. You don't want the gift to end up in the corner of their home unused or be passed on to another mom-to-be.
20 Best Baby Shower Gift Ideas in India
Whether it's your first or tenth baby shower, you'll never go wrong with one of these fantastic baby shower gift ideas in India. They're all safe bets that you can't go wrong with, and they're especially good if you don't know the mother well. There are many items to choose from to help celebrate a new arrival, from baby play gyms to maternity photoshoots.
The Mom Co. Pregnancy Gift Box
This gift box has products a mom-to-be or new mom will need to pamper herself while she takes care of her new baby. The hamper from Moms Co comprises body butter, stretch oil, body wash, and foot cream. All things specially designed for new moms. They are natural and free of harmful chemicals. It makes an ideal baby shower gift.
Maternity Photoshoot
Pregnancy is a special and lovely time in a woman's life. As a baby shower gift, you can book a maternity photoshoot for mom-to-be. A maternity photoshoot is commonly done in the third trimester, and it's a wonderful way for new parents to document their new journey. Also, the baby shower is mostly done in the last trimester.
Baby Milestone Cards
Baby Milestone Cards are thoughtful baby shower gifts. The new mom can capture her little baby's first year and all special moments with these baby milestone cards. This SYGA is my favourite and comes with 27 baby milestone cards. Some of the cards include Today I smiled for the first time, Today I slept through the night for the first time, Today I got my first tooth, Today I said da-da for the first time along with age milestones.
Baby Handprint and Footprint Kit
This Baby hand print and footprint is a thoughtful baby shower gift that can be cherished for life. New moms can save realistic prints of their newborn's itty-bitty fingers and toes with this kit. This adorable kit comes complete with non-toxic white clay, little rolling pin, handpainted wood frame, double sided tape and simple instructions.
Baby Swaddle Blankets
Swaddling is a common practice that involves gently covering a baby in a light, breathable blanket to help them relax and sleep. Babies are swaddled right from the day they are born. These soft fabric swaddles are a perfect baby shower gift. These swaddle blankets can also be used as Baby Washcloth, Changing Sheet, Burp cloth, Stroller cover, play mat as well as a nursing cover for on-the-go feedings. The new mom will certainly love it.
Baby Bouncer
Baby Bouncers also make ideal baby shower gifts. All moms use it. It comes in handy when moms need to set the baby down to use the bathroom or prepare meals in the kitchen—or even just to do some housework or take a break before picking them up again. This baby bouncer from Baby Bucket includes three different recline positions for newborns, infants, and toddlers. It includes a toy bar with two hanging toys that can be removed for playtime.
Baby Play Gym
Before you start picturing rooms with exercise machines, keep in mind that infant play gyms are nothing like adult gyms or workout rooms! Baby Play gym are interactive mats for baby's playtime. A playmat or play gym is a must-have item on every new mother's list and makes an excellent baby shower present. This one by Fisher-price comes with a piano on one side which plays music when the baby kicks on it.
Diaper Backpack
A new mom always has to carry a bag with the newborn to store all the extra diapers, wipes, clothes, bottles, binkies, and other goodies babies need on a regular. Diaper backpacks are replacing the traditional diaper bags which put a strain on the back and shoulders. This one by the House of Quirk comes in a quirky design. Style, versatility, and convenience are all combined in this small diaper backpack.
Diaper Caddy Bag
This is the new in-thing! All new moms will need it for at least the first year. Caddies allow moms to change diapers on the go and store everything they need in one location. Baby toys, diapers, baby outfits, baby wipes, bibs, onesies, baby toys, cloth diapers, changing pads, medicine, burp cloths, and other baby needs can be put in this Diaper Caddy. This one has a leather handle which looks very stylish. It is lightweight and compact to be easily moved around the house and loaded into the car for road trips. It's a fantastic baby shower gift.
Baby Nest with Pillow
Baby nests have become one of the most important items for parents to purchase for their newborn baby in recent years. A newborn will need a baby nest. This one by Motherly Store is a comfortable, warm, and luxurious lounger for a baby's sound sleep. It makes a wonderful baby shower gift idea.
Baby Bath Tub
A mom will need a bathtub as soon as the baby is born. A baby bathtub makes an excellent baby shower gift idea. This bathtub by Baybee is ideal for newborn and young infants up to 36 months old. It can be used when the child grows older.
Baby Carrier
With baby carriers, it is a lot more convenient to carry small babies. It's now known as babywearing. This adjustable baby carrier will be a perfect baby shower gift that new mom will surely use in her baby's first year. This baby carrier makes it simple to get the baby in and out.
Baby Toiletries Set
This gift pack by Chicco comes with all the essential products that a newborn will require during and after a bath time. It includes body wash, shampoo, wipes, soap, body lotion, and talcum powder.
Newborn Unisex Clothes Gift Set
In India, we do not know the gender before the baby is born. It is always better to gift unisex clothing set to mom-to-be. This unisex baby gift set includes everything a baby could possibly need in terms of wardrobe staples. It's an excellent baby shower present.
The Mom Co. Baby Gift Set
Everything a baby needs after a bath is inside this beautiful suitcase. All the products of The Moms Company are sulfate and paraben-free.
Soft Toys
One of the most common gifts for any new baby is soft toys. It can be used for room décor even if the baby doesn't play for the first few months. It would make a wonderful baby shower gift.
Baby Travel Blanket Gift Set
Baby blankets are a must-have for creating a cosy sleeping environment for the baby. Even while travelling, blankets help to keep the baby all tucked in and warm in a travel blanket that is easy to carry. This gift set comes with a plush toy and one matching travel blanket.
Cot Mobile
The crib mobile is an essential feature of any dream nursery. Its function extends beyond simply decorating baby's room. Crib mobiles are an ideal baby shower gift. They're actually necessary for a baby's developing curiosity and imagination.
Diaper Cake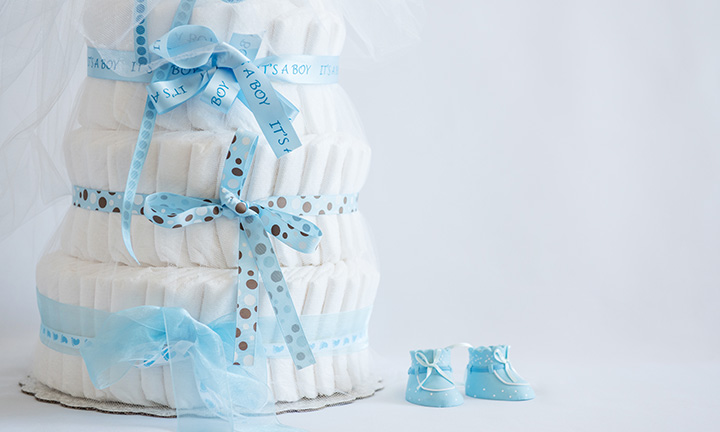 It may seem odd to gift diapers but trust me diapers are one of the best baby shower gifts, whether the expecting parents are expecting their fourth or first child. One of the most creative ways to gift diapers is the Diaper cake. Diaper cakes are made of rolled or folded diapers that are stacked to resemble a regular tiered cake. They're one of my favorite gifts to bring to a baby shower. You can make your own Diaper cake from this tutorial.
Rattle Set
The earliest toys given to babies are rattles. This rattle set comes with 7 different rattles. It also includes an attractive baby mobile phone with light and music.
Many Indian women are now blending traditional and modern values by combining traditional ceremonies with baby shower celebrations. A baby shower is a great chance for friends and family to come together and express their support for a pregnant mother and her unborn baby. I hope you found this list of Best Baby Shower Gift Ideas in India useful. Let me know your thoughts in the comments.