Pediasure Review: Is it Really Healthy?
Today, a health drink is an important part of any urban child's diet. Thanks to heavy advertising, even if the child eats well throughout the day, a health drink is given to him/her at least once a day. In this post, I shall give you Pediasure Health Drink Review. Pediasure has become quite popular in recent years in India. Please note that this is not a paid advertisement for PediaSure review or its related companies. The information has been collected to help fellow mommies to make an informed decision.
The rise in nuclear families, busy lifestyles, and a need to spend on healthy dietary supplements have all contributed to an increase in the consumption of these health drinks. The concept of a health drink was started to support a growing child's nutritional needs. Please keep in mind that it was to "support" the nutritional needs. If the family can afford to give a nutritious meal four times a day and the child unfussily eats, no child requires a health drink. Natural foods, fruits, vegetables, nuts, and a well-balanced home-cooked meal are the best sources of all kinds of nutrients for everyone, not just children.
About Pediasure Health and Nutrition Drink Powder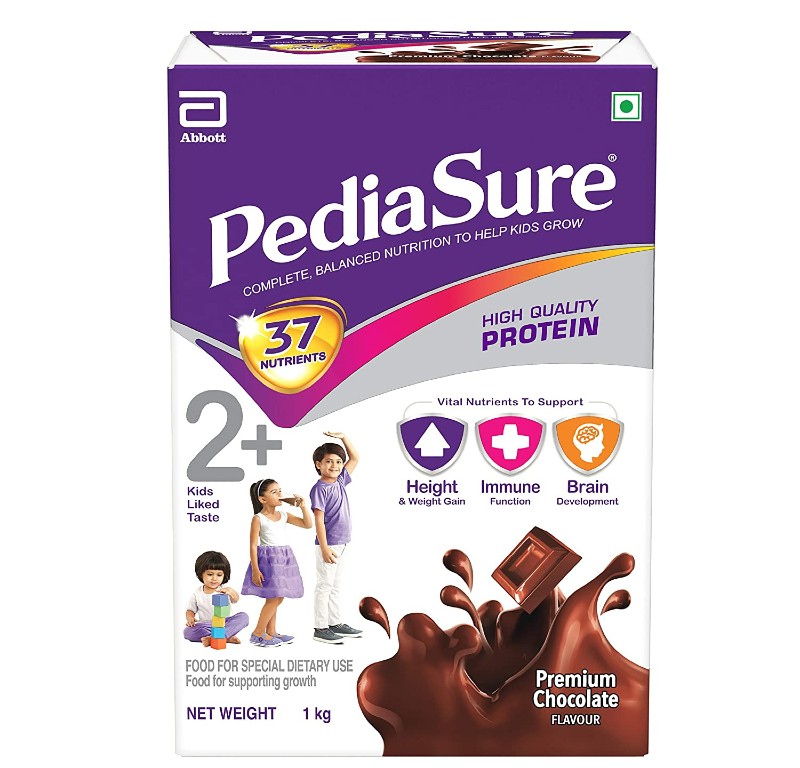 PediaSure Health and Nutrition Powder is manufactured by the pharmaceutical giant Abbott. The brand promise is that it has 37 nutrients to help support the height and weight gain, immunity, and brain development of kids.
Competitors in India: Complan, Bournvita, Horlicks, Boost, Ensure
Flavours: It comes in a number of flavours, including Vanilla, Chocolate, Kesar Badam flavor making it easy for children of all ages to enjoy this nutritious beverage.
Age: 2 years and above
How to Use
If you are giving with milk, add 2-3 scoops to 150 ml milk.
If you're using water, mix 5 scoops in 190ml water.
1 Scoop equals 9.1g of Pediasure powder.
Ingredients of Pediasure Health and Nutrition Drink Powder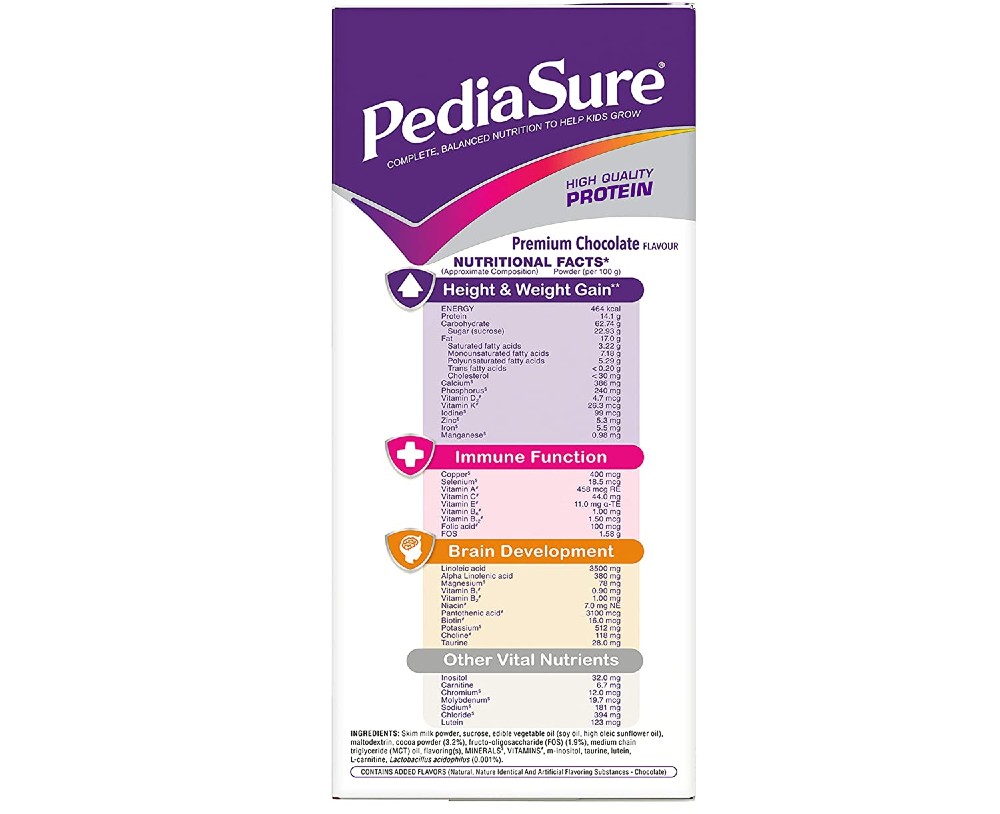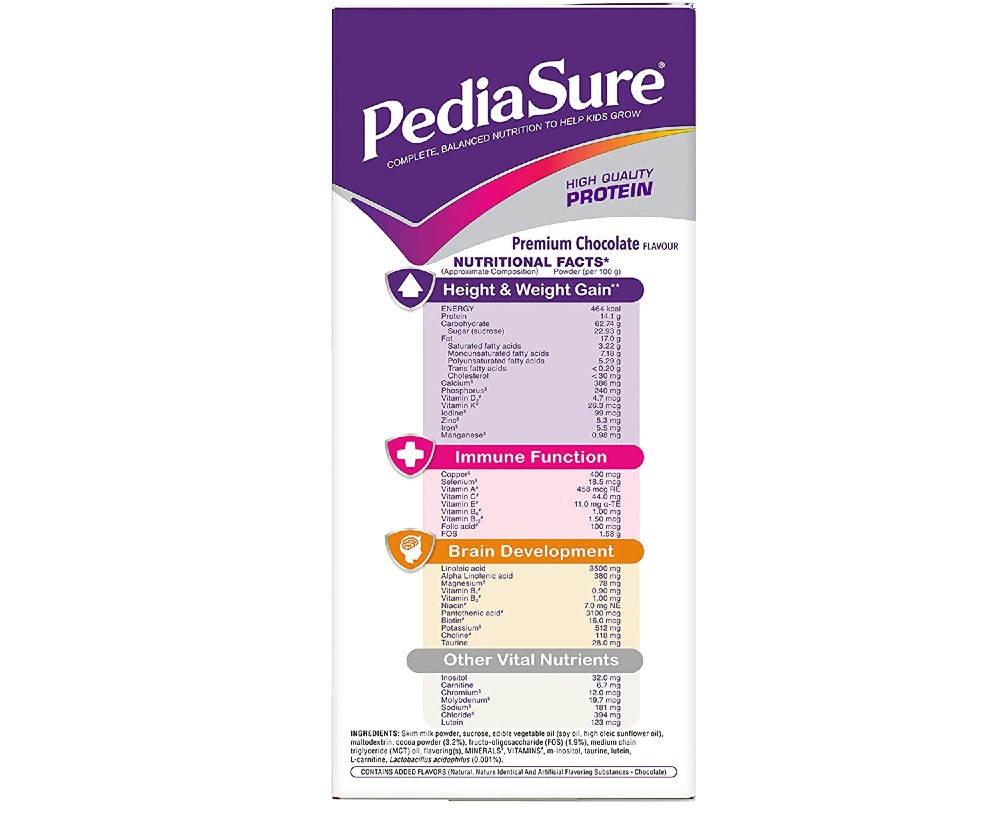 To know the benefits and side effects of Pediasure, we need to look at its list of ingredients.
Skim milk powder
Sucrose
Edible vegetable oil (soy oil, high oleic sunflower oil)
Maltodextrin
Medium chain triglyceride (MCT) oil
Fructo-oligosaccharides (FOS) (2%),
Flavoring
Minerals and Vitamins
M-inositol
Taurine
Lactobacillus acidophilus, L-carnitine and Bifidobacterium lactis
Now let's decode the ingredients
Skim Milk Powder – Skim milk Powder is the primary ingredient of Pediasure. In India most of the health drinks are either malt based or milk based.
Sucrose – Sucrose is sugar. Sugar makes the taste better.
Edible Vegetable Oil – It has blend of Soy and Sunflower oil.
Maltodextrin – Maltodextrin is a white powder that can be manufactured from corn, rice, potato starch, or wheat starch.
Despite the fact that it is made from plants, it is extensively processed. It acts as preservative, sweetener and thicker in foods.
Medium chain triglyceride (MCT) Oil – MCT oil is added to provide calorie and fat. MCTs have been used to treat malnutrition for a long time because they are easy to digest and convert to energy.
Fructo-oligosaccharides (FOS) – Fructooligosaccharides are used as alternative sweeteners because they carry fewer calories than sugar.
Flavoring – Flavoring is used for adding flavor to the drink.
Minerals and Vitamins – Added Minerals and Vitamins
M-inositol – Myo-inositol is a member of the vitamin B-complex group. It is found in a wide variety of foods including fresh fruits, legumes, whole grains and seeds.
Taurine – Taurine is an amino acid that can be found in a variety of foods and is frequently added to health drinks. Taurine is essential for general wellness. It is one of the most common amino acids in muscle tissue, brain, and body organs.
Probiotics – Lactobacillus acidophilus , L-carnitine and Bifidobacterium lactis are probiotics added for gut health.
Pediasure Review
Here is my detailed review of Pediasure.
Pediasure can be given to kids who are picky eaters or underweight. It is a complete balanced nutrition supplement for children who don't eat well. It has essential nutrients such as Minerals, Vitamins, Fat, Protein, and carbohydrates. If you compare it to soda, bag of chips or a greasy burger, a glass of milk mixed with Pediasure is clearly the superior option. But you have to understand that these drinks are meant to supplement, not replace, fresh meals. Therefore,  reaching for a supplement right away if your child isn't eating properly isn't the best option. It is a temporary solution.
Pediasure can be given occasionally if your child doesn't enjoy the taste of plain milk. Milk is a natural source of nutrients. It is a full meal on its own. However, if your child does not enjoy milk, you can add health drinks to disguise the taste which does not affect its nutritious levels. But this should be done only occasionally. Regular consumption of flavored milk may make it difficult for kids to accept plain milk in the future.
Pediasure is gluten free. It is suitable for kids with gluten allergy.
It has high sugar content just like other health drinks. We all know excess sugar is not good for our health. The amount of sugar in one serving (30 gms) of Pediasure is 7.35 grams of sugar. According to American Heart Association, kids between 2-18 should have less than 25 grams of sugar or 6 teaspoons of added sugar daily for a healthy heart.
The taste is good. The flavor appeals to kids, and you don't have to coerce them into drinking it.
Pediasure is heavy. After drinking the beverage, a child may feel full and refuse to eat their next meal. As parents, you have to make sure it doesn't replace their meals. It can be consumed as snacks in between meals.
Added Minerals and Vitamins are not always good. It doesn't matter if a product contains added vitamins, minerals, or other nutrients. There will always be a difference between natural and synthetic. The product will be considered nutritional only when it gets absorbed and assimilates into the body. Artificially added vitamins and minerals are often not absorbed by the body.
Pediasure is expensive. At present 200 gms of chocolate flavored Pediasure is of Rs. 295/-. Cost of one serving (30 gms) comes to be Rs.44.25. Spending approximately Rs. 45/- daily on health drink loaded with added vitamins and mineals doesn't make sense to be. Instead, serve your child fruit smoothies and shakes with natural nutrients.
Conclusion of Pediasure Review
I hope you found the Pediasure review useful. Nothing can beat fresh natural whole food for kids of any age. A well-balanced diet is enough to make your child "taller", "stronger" and "sharper". PediaSure is a healthy supplement with essential vitamins and minerals for kids who don't eat well or underweight. So, if your child eats well you don't need health drinks.
Let me know in the comments what is your take on health drinks? Do you give to your kids?
Also Read How to Increase Immunity in Kids?