The Very Hungry Caterpillar Craft with Leaves
If your Child has read the book, The Very Hungry Caterpillar, then he/she will surely like this craft using leaves. Even if he/she hasn't read the book, he/she would like this craft idea as they would be making a caterpillar using leaves. This is a simple craft activity which can be done by kids as young as 3 years old.
Supplies Needed for The Very Hungry Caterpillar Craft
A4 sheet paper
Fevicol
Green Leaves 10-15
Scissors
Flower petal for Antenna
Water color – Red, Brown and Blue
Collect these leaves together with your child. He/she will have fun. If you don't have a garden at your place, take him/her to the park to collect the same.
Procedure
Take an A4 sheet paper and draw a rough sketch in the shape of caterpillar as a guide for your child where to stick the leaves.
Paint one leaf with red color to make the face of caterpillar..
Paste the other leaves and red leaves with the help of fevicol and let it dry.
Add eyes and smile to your caterpillar using yellow paint. I was initially thinking of using yellow leaves for the same but could not find the same. Using the picture as a guide, cut shapes of eyes and smile. Otherwise, you can always draw using water colours.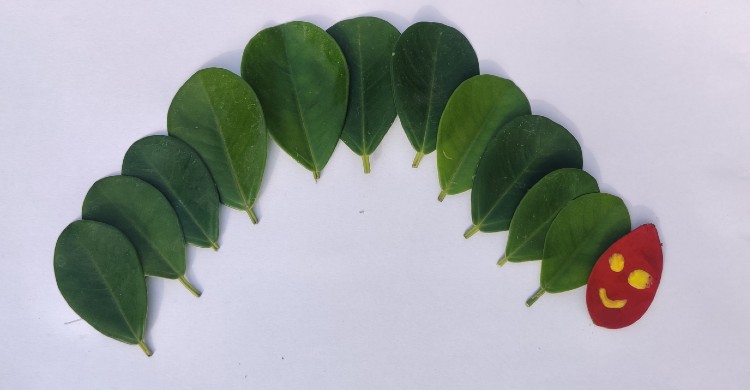 Make legs using  brown paint and add flower petals as the antenna.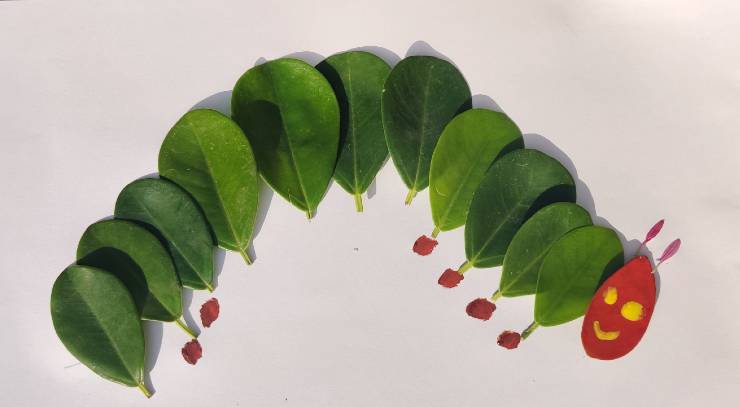 Hope you and your child try this activity !
Also Try