Krishna Costume Ideas for Kids
Have you been looking for Krishna Costume Ideas to dress up your child as Little Krishna? Well! We've got you covered.
Janmashtami is a Hindu festival celebrating Lord Krishna's birth. It is widely celebrated in North India, but it is also observed in other states with equal zeal. In many households, a common Janmashtami custom is to dress the family's youngest male member as Lord Krishna, which, as you can imagine, is an adorable sight!
Dressing up your little one in Krishna Costume is a way to see Lord Krishna in your child. It is considered to be auspicious and is believed to bring positive energy and good luck. So if you're wondering how to dress your baby in a Krishna costume dress and looking for Krishna costume ideas, we've got a few tips for you right here!
How to Dress up your Child as Lord Krishna?
To make a Krishna costume for your baby, you'll need the following pieces.
Dhoti
Dress up your baby in a dhoti, preferably a silk one. You can choose any bright colour though yellow is the most chosen color. Instead of trying to wrap a dhoti around a baby, you can go for ready-to-wear dhotis too which have an elastic belt. With a dhoti, you can make your little one wear a matching kurta or a stole. If you are going for a stole, it's a good idea to tie it properly or to pin it carefully to the dhoti so that it doesn't slip off. After all, your excited toddler is going to run and play in his outfit, so make sure he's comfortable with a stole around him or over his shoulders.
Accessories
The most important aspect of a Krishna costume is the accessories. We all know how the right accessories can transform a simple dress.
Peacock Feather and Crown
Make your child wear a crown with mor pankh / peacock feather attached to it. You can buy readymade crowns available in the market or make a crown at home. But make sure the crown is comfortable to the child. The crown should not be very big. It may make the child uncomfortable. You can even use a band if your baby is not comfortable with a crown.
Flute
Krishna's look is incomplete without the flute. Lord Krishna is also called 'Murlidhar,' meaning the one who adorns the 'Murli' or the flute. Krishna is said to have mesmerized everyone with his flute by playing a variety of enchanting tunes. You can either buy a toy flute or make your own. Make sure you choose the right length. The length should be appropriate according to the size of your child.
Mud Pot/Matka
Little Krishna is also known as the Butter Thief or Makhan Chor. Lord Krishna is known for his fondness for butter, and we've all heard stories about him stealing butter from his home and neighbors. With a simple accessory — a small earthen pot with (or without) butter inside — the Krishna theme can be elevated to new heights.
Chakra
Sudarshana Chakra was Lord Krishna's powerful weapon. You may not find ready-made chakras in the market but you can make one easily.  Cut a circular shape from a piece of cardboard. Create a tiny hole in the middle of the chakra to fit your child's forefinger. Cut Spikes at the circle's edge. Cover with a sheet of silver paper.
Jewelry
Lord Krishna was a prince, so dress up your little one as one, too! To complete the look, add matching jewelry to the neck, arms, and legs.
Prefer lightweight jewelry to avoid any discomfort.
Choose jewelry with a smooth finish and no rough edges to prevent scratching or tearing delicate skin.
Metal accessories should be used with caution, as they can cause allergic reactions in some children.
Finally, make sure the jewelry is not too tight or uncomfortable for your child.
Flower Garland
You can either use some fresh flowers or artificial flowers to make a pretty garland. You can also wrap the garland around your child's wrist.
Makeup
The next essential part of the Krishna look is the 'tilak', which is applied on the forehead. Apply tilak with sandalwood paste or sindoor. Using some other make-up on your baby is a no-no because it could damage his sensitive skin.
Krishna Costume Ideas for Babies and Kids
We've included a few pictures of adorable kids dressed as Lord Krishna from head to toe. We hope that these images encourage you to dress your child like Krishna.
Krishna Costume Ideas at Home
Making a Krishna dress for your child can be a fun activity for the whole family to engage in. Continue reading to learn how to make each part of the Krishna costume at home.
Make your Dupatta as Dhoti
Here is an easy youtube tutorial to drape dupatta as dhoti.
DIY Accessories
This DIY tutorial will guide you to make beautiful ornaments.
Makhan Matka
This tutorial will show you how to decorate Makhan Matki for Janmashtami.
Buy Krishna Costumes for Kids Online
You will surely get the Krishna costume and accessories in your neighborhood market. Otherwise, there are online stores too selling the same. You can buy Krishna costumes by clicking on the images given below. Along with the jewelry, most of these costumes contain flutes, wristbands, waistbands, and crowns.
1. Raj Costume Baby Krishna Costume
2. Kaku Fancy Dresses Krishna Printed Costume
3. Peacock Feather Embroidered Kurta And Dhoti With Krishna Headband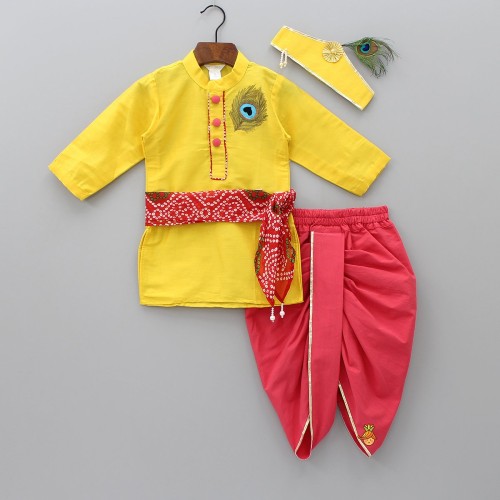 4. Vihaan Associates Krishna Dress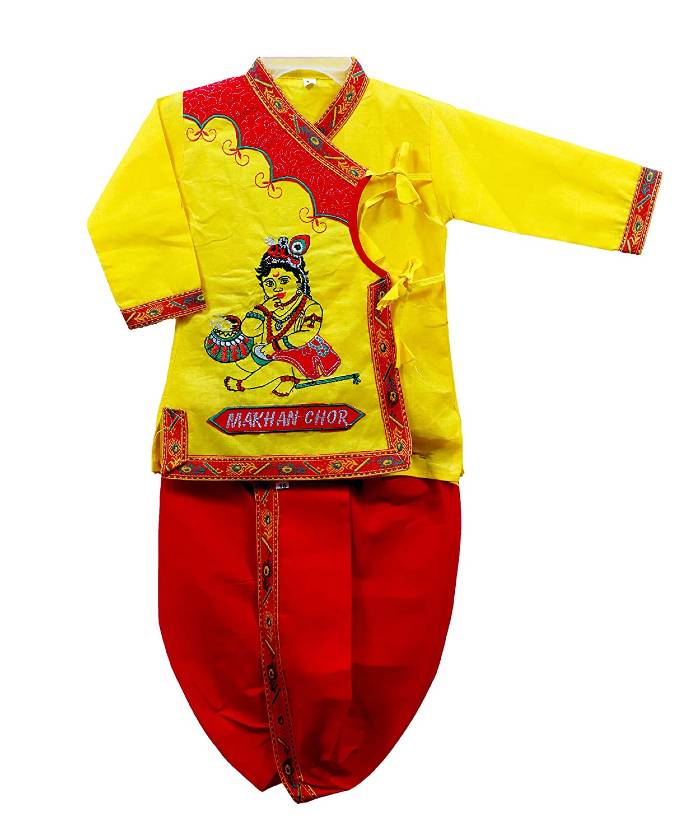 5.  New Gen White Krishna Costume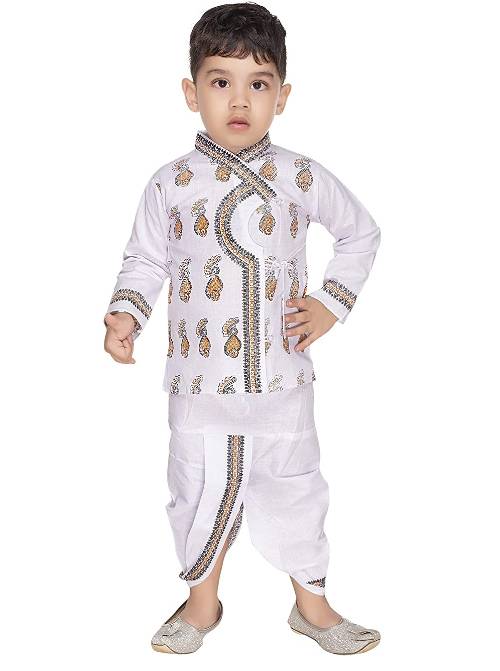 6. Orange Krishna Embroidered Angarkha And Yellow Dhoti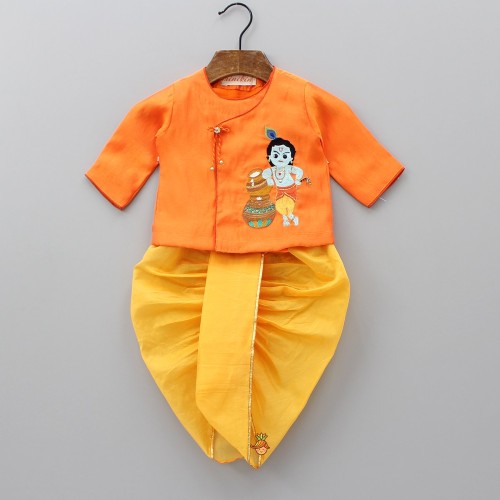 7. JBN Creation Krishna Dress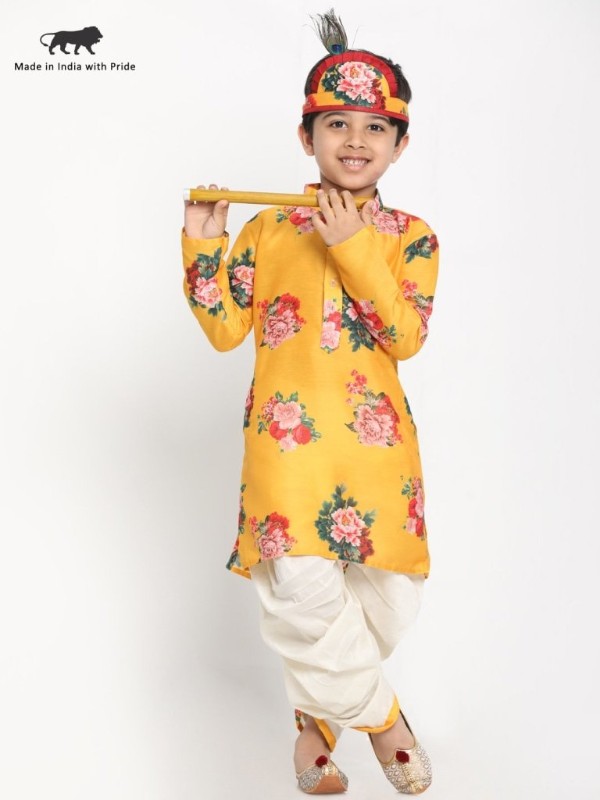 Tips for Dressing Your Baby as Krishna
Before dressing up your baby as Lord Krishna, keep the following tips in mind.
Be certain that no part of the costume contains anything that may cause choking.
Ensure the child is well-fed and slept before dressing up. Otherwise, he/she might be irritated.
Don't go overboard with the accessories; instead, select things that are comfortable for him.
Also, see that the costume you select for your child is made of high-quality fabric (preferably cotton or silk).
Click the photograph as soon as your child gets ready. Do not wait to click photos.
I hope these suggestions help you in preparing and celebrating Janamshatami and make this a memorable occasion for your children and the entire family. I hope you were able to find good Krishna Costume Ideas.