Is Fluoride Toothpaste Safe for Kids?
You may have seen some ads promoting fluoride-free toothpaste for babies and toddlers. You may wonder if it's a marketing gimmick or whether the use of fluoride toothpaste is safe for kids. Don't worry! There is no harm in using a fluoride toothpaste for kids. In fact, dentists recommend using one. The American Dental Association recommends that it be used for children.
What is Fluoride?
Fluoride is a natural mineral found naturally in water, soil, and air. It is added to toothpaste as it helps to prevent cavities and tooth decay.
Is Fluoride Toothpaste Safe for Kids?
Fluoride-containing toothpaste is absolutely safe for babies if given in correct dose. The American Dental Association recommends using a regular fluoride toothpaste for kids in a very small amount since tooth decay is very common among children these days.
Just like any other supplement of vitamins and minerals, if anything is given in high quantities it has its side effects.  An excessive amount of fluoride may lead to fluorosis. Mild fluorosis causes white spots on the teeth while more severe fluorosis causes pitting and dark brown discoloration on teeth. In some cases, an excessive amount may lead to an upset stomach. Once permanent teeth are formed, there is no longer a risk for fluorosis.
Therefore, be around your children when they brush their teeth.  Supervise your children while they are brushing and keep toothpaste out of their reach. It is common for toddlers to swallow their toothpaste. So, teach them to spit out properly and not gulp it.
What is the Correct Amount of Toothpaste for Kids?
Using the correct amount of toothpaste will protect your child from tooth decay and too much fluoride. For infants and toddlers under 3 years of age, use a baby toothbrush and toothpaste about the size of a grain of rice. Once your child has the ability to spit out excess toothpaste, move up to a pea-sized amount. Even for adults, a pea-sized amount of toothpaste is sufficient.

Are Kid's Fluoride Toothpaste Same as Regular Toothpaste?
No, the kid's fluoride toothpaste is not the same as adult or regular toothpaste.
There is a difference in the amount of fluoride they contain. Children's toothpaste has less fluoride. Children's brands range from 500ppmF to 1,450ppmF whereas regular brands range from 1,000ppmF to 1,450ppmF.
Children's toothpaste is often a gel-based formula as it is less harsh.
And last but not least, there is a difference in the range of flavors! Adult toothpaste has mostly mint flavor. However, children's toothpaste comes in many flavors, such as strawberry, bubble gum, orange etc.
When can Kids Switch to Regular Toothpaste?
Kids can switch to an adult toothpaste around the age of 8 when his/her permanent teeth come or the transition can be made earlier if a child 'spits' out properly and doesn't swallow large amounts of toothpaste.
The Bottom Line
Fluoride toothpaste is generally safe and recommended by dentists for both children and adults. But it is important to use it in the correct dose and correctly, especially for infants and toddlers.
If you're still concerned about the safety of fluoride toothpaste and looking for fluoride-free toothpaste, there are plenty of fluoride-free options also available in the market. There are many brands that market themselves as 'natural' or 'organic' toothpaste and contain no fluoride. You can even use them. Using such a toothpaste certainly does not mean that there will be decay. Just make sure you pair it with a consistent brushing schedule and regular dental visits to stay away from cavities and tooth decay.
Best Toothpaste for Kids in India
To help you out in the process of selecting the best toothpaste for your child, we present you with a list of the best kids toothpaste for kids, both fluoride and non-fluoride in India. There is no harm in using a fluoride toothpaste for kids. In fact dentists recommend using one. It is completely your choice to go for fluoride or fluoride-free.
Best Fluoride Toothpaste for Kids in India
1. Kidodent Dental Gel for Kids
Kidodent is a toothpaste brand that is recommended by doctors. The toothpaste is helpful in preventing cavities and plaque. It contains sodium monofluorophosphate, which is an oral fluoride medicinal gel. It has a very palatable taste and is widely like by children.
2. Pediflor Apple Flavour Kids Toothpaste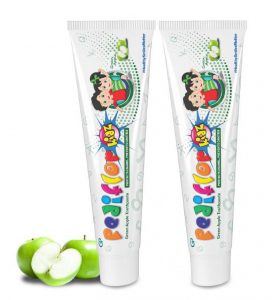 Pediflor is a specially formulated toothpaste for children with fluoride & natural sweetener Xylitol 10% which helps to reduce plaque formation and fight tooth decay. The toothpaste comes in apple flavor which makes it a pleasant and appealing feature for children.
3. Colgate Anticavity Kids Batman Toothpaste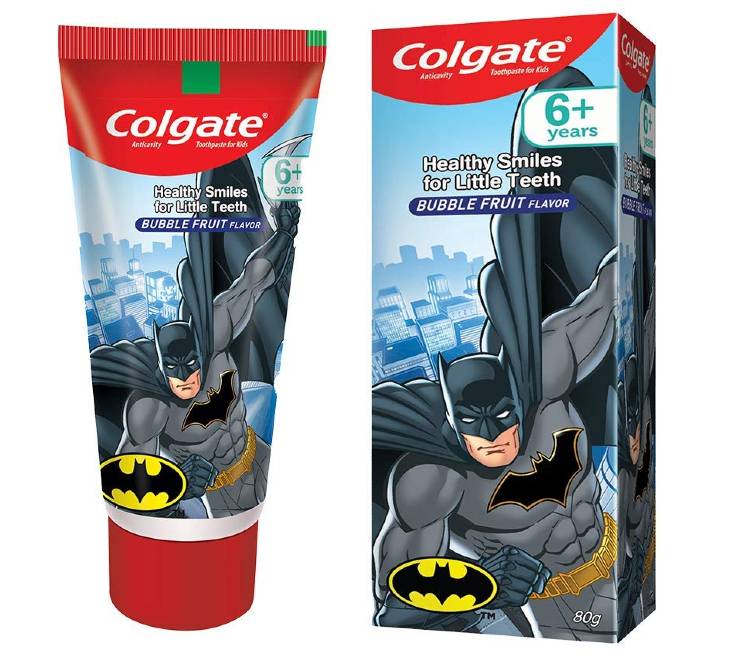 This toothpaste produced by Colgate Palmolive India comes in the attractive batman theme packaging. The toothpaste contains fluoride which helps in enamel protection and cavity formation. It comes in delicious bubble fruit flavor.
4. DentoShine Gel Toothpaste for Kids
DentoShine toothpaste comes in the form of a gel. It comes in three flavors, mango, strawberry, and bubble gum. It contains 500 ppm fluoride which helps in cavity protection.
Best Flouride Free Toothpaste for Kids in India
1. Chicco Toothpaste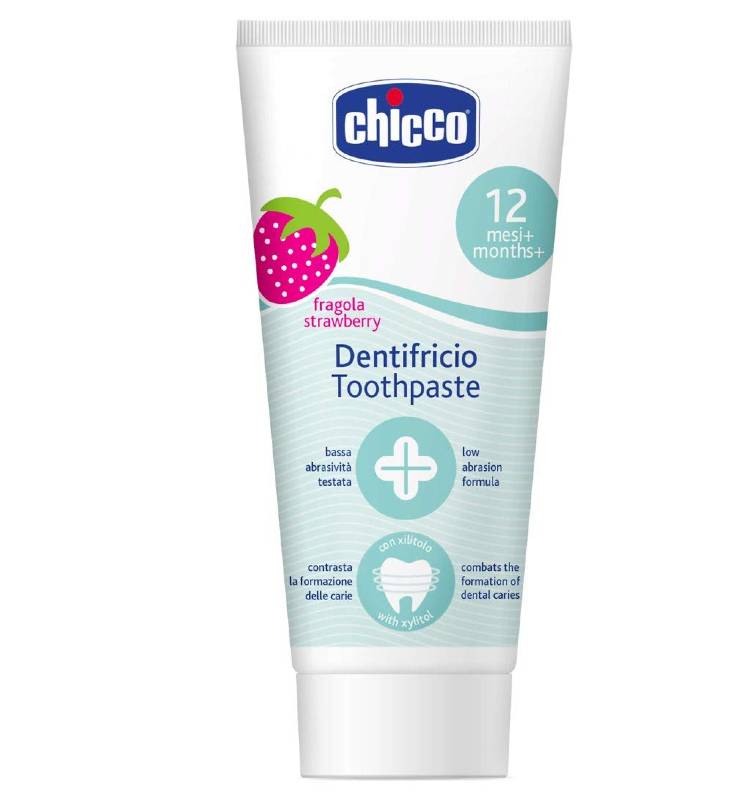 Chicco toothpaste is fluoride-and preservative-free. It does not contain any unsafe ingredients. The toothpaste contains bio-available calcium which helps to strengthen a child's milk teeth. It is very effective in stopping dental cavities and decay. The REA present in the toothpaste is very small and does not damage the enamel of the tooth while brushing. The strawberry flavor is also pleasant for kids.
2. Mamaearth 100% Natural  Kids Toothpaste
Mamaearth's toothpaste is made with all-natural ingredients. It is free from fluoride and sodium lauryl sulphate. It contains all natural ingredients like xylitol, aloe vera and stevia. So you don't need to worry if more toothpaste ends up in your baby's tummy than in the sink. It produces a subtle, natural foam without the use of SLS. Mamaearth's toothpaste comes in strawberry, berry and orange flavor.
3. Hello Oral Care Kids Toothpaste
Hello toothpaste is fluoride-free and contains ingredients such as xylitol, erythritol, aloe vera, and a silica blend that gently polishes your teeth. Its watermelon flavor encourages kids to use it regularly. It is environment friendly too. The toothpaste boxes are made of 100% recycled paperboard and printing is done with soy inks.
4. Mee Mee Fluoride-Free Fluoride-Free Toothpaste
Mee Mee toothpaste is also fluoride-free making it safe to use for one-year-old kids. It contains triple calcium phosphate, which strengthens and protects your kid's teeth.  Its tangy strawberry flavor makes it pleasant for kids.
5. Pigeon Strawberry Children Toothpaste
Pigeon toothpaste is fluoride-free which means it is safe even if a child swallows it. It helps in cleaning your baby's mouth mildly and prevents tooth decay. It contains a limited foaming agent. The strawberry taste is appealing to young kids.
It is always best to select fluoride-free toothpaste for children under the age of two and low-fluoride toothpaste for children between the ages of two and eight.
Let me know in the comments what is your opinion on fluoride toothpaste for kids. Do you use fluoride toothpaste for your kids? Or you go for fluoride-free option?
You may also like our other articles
How to Improve Kids Immunity ?
Best Natural Mosquito Repellant