Best Educational Toys for 2 Year Olds in India
Whether you are a parent or grandparent or a loved one looking for the best educational toys for 2 year olds here is a curated list of the best educational toys for 2 year olds for you. As kids will progress from toddlers to preschoolers, these toys for 2 year olds will grow with them, keep them engaged, and stimulate their brains. These Educational Toys will inspire creativity, work on child development skills, logic, imagination, and more.
List of Best Educational Toys for 2 year olds in India
Activity Cube
This activity cube includes everything a baby will want in a toy. This cube has a piano, blocks, gears, mirror, and rotating beads to keep your child occupied. Music, animal sounds, a rotating bell, a shape sorter, a bead maze, and a time learning clock, will surely keep your child engaged. The 6 detachable pieces can be interlocked together in a variety of ways to stimulate a baby's imagination, reasoning skills, and hand-eye coordination.
Geometric Shape Sorter Toy
This Geometric shape sorter toy is a fantastic way to teach Shapes, Size, Height and Colors. It comes with 20 pieces of colorful detachable and removable wooden geometric shape blocks and 1 wooden base with 15 posts. While sorting and placing the blocks in the boards, kids will improve their problem-solving skills. Your child will gradually learn to recognize shapes and colors by playing with this wooden shape sorter puzzle. Puzzles are also a great parent-child play.
Enjunior Box Educational Box
This box is a great educational toy for 2 year olds. It comes with 3 books and 4 activities. 3 Books about First 100 words, Everyday Manners and Etiquettes and A new beginning to school. Activities include opposites puzzles, flash cards, stamping activity, and a game to help kids learn the daily routine. Both boys and girls would enjoy this wonderfully designed learning box .
Wooden Activity Triangle for Kids
This is a classic wooden five-sided multi-activity toy perfect for toddlers as well as preschoolers. It is one of the best educational toys for 2 year olds. The structure has an abacus, alphabet swivel blocks with pictures, chalkboard, clock, and wooden gears, which makes it fun for your child to understand important preschool learning concepts. It stimulates mental ability & fine motor skills and helpful in teaching numbers, alphabets, and concepts of time.
Wooden Maze Chase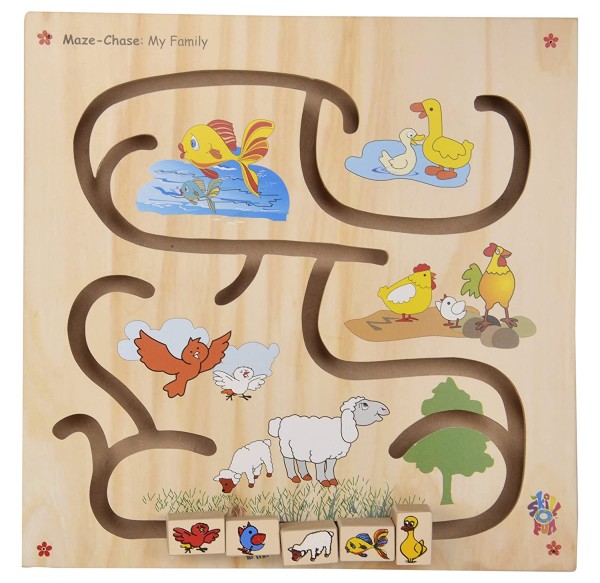 Kids need to move the baby animals to their mothers. Apart from recognition, this is an excellent game for eye-hand coordination, grip, and muscle movement. There are other themes available in the same : Animals and their food, Shadow matching, Shapes and Addition.
Abacus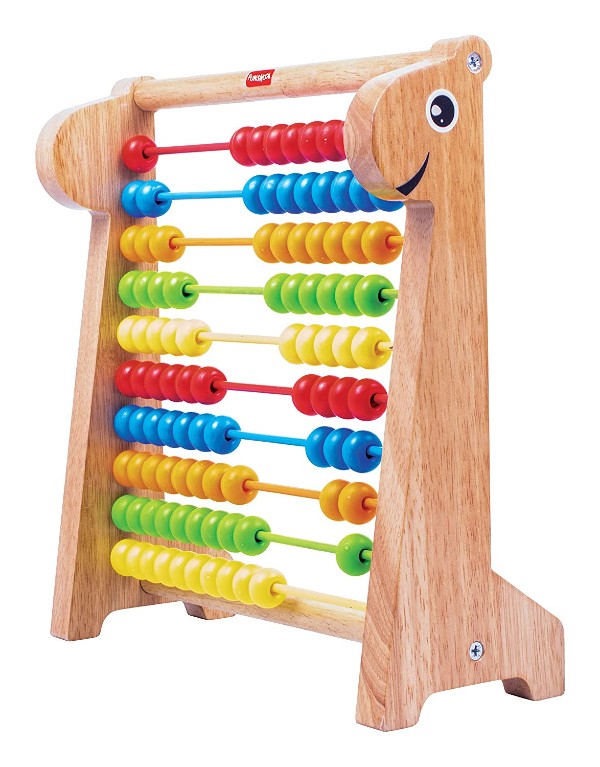 Abacus is a fantastic educational toy. The multi-colored beads on this wooden abacus will immediately attract kid's attention. It encourages them to grab, spin, or slide the beads. The toy abacus is brilliantly intended to teach children basic concepts such as counting, colours, and patterns. The beads on each row can be moved, and the beads can be separated to make certain number. The abacus can be used to teach addition, subtraction and the concept of grouping for multiplication and division later on.
Shape Matching Boards
Shapes Matching Board is a fantastic educational toy for 2 year olds to teach colors and shapes. This one comes with three boards- First with a single-piece puzzle, Second with a 2-piece puzzle, and Third one with 3-pieces. Puzzles are a great tool to practice motor skills and logical thinking. You can use the same later to teach about fractions.
Count and Stack Puzzle Game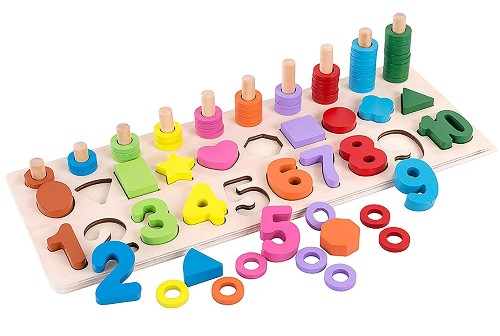 This is a perfect educational toy to introduce numbers and shapes to 2 year old kids. The child has to count and stack the rings in front of the numbers which is a good mind exercise to learn simple arithmetic. Using hand movements to place the rings, shapes and numerals is also a great technique to improve motor skills and hand-eye coordination.
Rainbow Stacker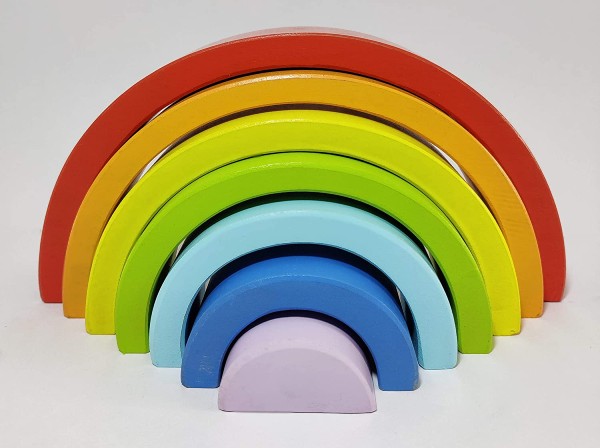 One of the most versatile toys is the rainbow stacker. Rainbow stackers are open-ended toys, which means that children can play with them in a variety of ways. Rainbow stacker can be used alone or in combination with other toys to make everything from bridges to tunnels, animal figurines to automobile tracks. With games like building, stacking, and nesting, it's a great approach to help a child develop reasoning skills and problem-solving ability.
Busy Board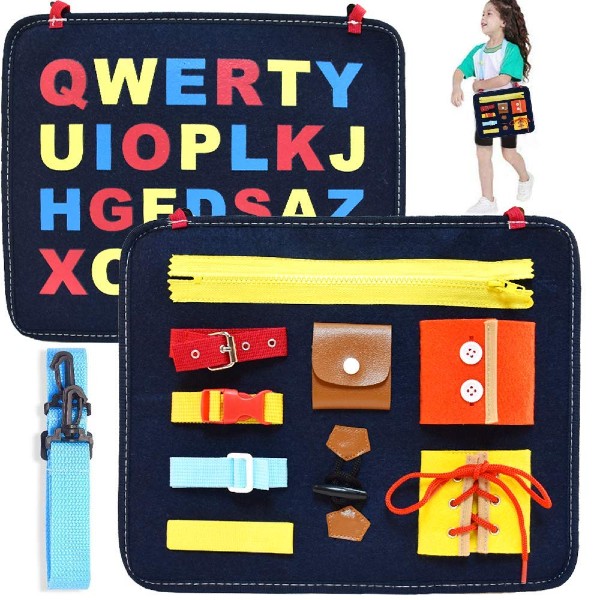 This is a new type of puzzle trending now. It consists of nine parts including snaps, buckle, zipper, velcro, buttons, clasp, shoes laces. This felt busy board aids in hands on learning, motor skills and cognitive skills. It develops your children's ability to adapt to their surroundings. This is also ideal for keeping children occupied for long periods of time, such as during flights, vehicle rides, and restaurant visits.
Lego Duplo Alphabet Truck Set
Legos are evergreen classics and the best educational toys for 2 year olds. How about a twist with this alphabet truck that introduces alphabets. To add to the fun and imaginative role play the blocks include 2 children figures and an adorable bear. As they arrange alphabet bricks into the truck, toddlers enhance their fine motor abilities. As they do so, they also become familiar with the letters of the alphabet . This lego truck inspires creative building, imaginative play and alphabet learning.
Wooden Blocks
This set includes 60 colourful wooden blocks with the letters A to Z printed on them, along with related words and illustrations, to assist the kid in learning ABCD quickly. This toy will provide hours of fun to your child as he constructs towers, towns, castles, and much more with a variety of shapes including rectangular prisms, triangles, cubes, cylinders, arches and more. While building the castle or any structure the child can learn A to Z alphabets in sequence. This wooden toy will help boost multiple skills like cognitive skills, hand-eye coordination, logical skills, motor skills, problem-solving skills while your child engages in building the colorful castle on his/her own.
Chunky Puzzle Sets
These simple chunky puzzles are ideal for two year olds. It is easy for little fingers to grab and place in the puzzle. You can let your child place the jigsaw on the grooved base plate, else the children can complete the puzzle using their memory and jigsaw skills without referring to the figure. Apart from hand-eye coordination and fine motor skills development, these puzzles are also good for developing critical thinking ability.
FlashCards
Flashcard learning is quite popular as a fun way to introduce new words, visuals, or concepts to children. This set contains a total of 160 flash cards. It cover topics alphabets, numbers, shapes, colours, fruits, vegetables, flower, birds, wild animals, and domestic animals.
Mega Bloks
This Mega Blok set come comes with 80 big blocks. These large blocks are easy to put together and take apart which is ideal for young kids. Playing with blocks allows your child to develop fine motor skills while enjoying hours of creative, open-ended play. Toddlers can repeatedly build, create, and knock over their masterpieces. The clean up after playtime is also easy. When the playtime is over you can keep it in the storage bag.
Shape Sorter Toy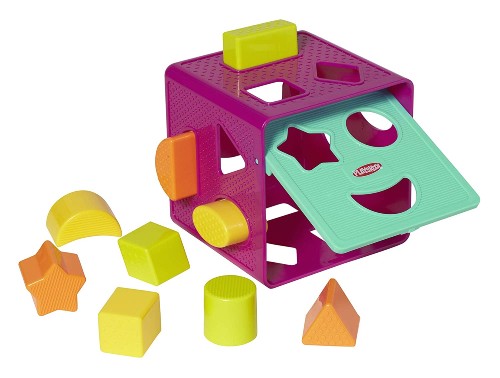 Shape sorter toy is another classic educational developmental toy for kids. This one from Playskool is fantastic and reasonably priced. It aids in the development of fine motor skills and spatial reasoning, as well as the understanding of shapes and colors.
Magnetic Fruits and Vegetable Cutting Set
This magnetic vegetable and fruit cutting set is great for teaching different vegetables and fruits to little ones. It also helps them to understand the internal structure of different fruits and vegetables. These toys are not too difficult for the kids to cut or slice up as they are joined by magnets. But they are challenging enough to split the pieces into halves with a wooden knife. Cutting these fruits and veggies is a lovely experience. You create a buzzing sound when you slice, just like actual fruits and veggies, offering your infant a real-life playing experience.
Wooden Car Race Ramp
This is a simple and fun to play toy. This 4-level wooden ramp racer set includes 4 colorful wooden race cars. It teaches your child how to grab and hold objects, which is beneficial to their growth. It teaches basic physics, fine motor, and problem-solving skills while also stimulating creativity and logic.
Hope you find the list of Best Educational Toys for 2 year olds useful. We also have a list of Best Educational Toys for 3 year olds. Do you have any toys to add to our list? Please let us know in the comments.