Best Educational Toys for 3 Years Old in India
Are you looking for the best educational toys for 3 years old? It might appear like choosing toys for three-year-old is such an easy task. Walk into a toy store and you will feel overwhelmed. Here I have mentioned What are educational toys, How to choose educational toys for your 3 years old and a list of educational toys that have worked for me. All the toys that have been selected are gender-neutral.
What are Educational Toys?
Educational toys are children's toys that stimulate learning. Educational toys help children to learn or acquire skills. They also simplify, minimize, or model the activities and concepts used by adults.
How to Choose an Educational Toy?
A good education toy should be fun as well as learning.
Choose toys according to the age and abilities of your child. A toy should be challenging for the child. But it should not be that hard that a child is not able to solve and it frustrates him/her. Eventually, he/she will avoid playing with it.
Consider toys according to your child's Interests. If your child is into dinosaurs, get dinosaur-themed toys.
Choose toys that grow with your kid. Select toys that can be fun at different developmental stages.
Select Open-Ended Toys. Open-ended toys like blocks, rainbow stacks are a great buy because they can be used over and over again and in many different ways. Additionally, they promote critical thinking and STEM skills.
Don't Forget About Creativity. It is necessary to develop STEM skills, but creativity is also equally important. Best toys will encourage kids to use their imagination too.
List of Educational Toys for 3 Years Old
Munchkin Bath Letters & Numbers

Turn your kids's bath time into learning time with these fun foam letters and numbers. These foam bath toys have 26 letters (A-Z) and 10 numbers (0-9). With these foam toys, children can learn the names of colors, letters and alphabets. These foam toys float in the bath as well as stick to the walls of the bathroom or tub when wet. Then they come off quickly when they're dry and leave no trace. The same foams can be used to form words when learning phonics later on.
7-Piece Rainbow Stacker
Rainbow stacker is the most common and popular open-ended toy in Montessori playrooms. Kids can use these colorful arches to make structures such as bridges, tunnels, fences and an end range of different things. It let's children explore and create their own creativity with this open-ended learning toy.
Webby Wooden Clock & Shapes Sorting Toy

This wooden clock is ideal for teaching fine motor skills, numbers, colors and time concepts. The minute and hour hands can rotate. It can be used to teach kids about the time also.
Webby Wooden Capital Alphabets Letters Puzzle Toy

This is a colorful wooden alphabet board for children. The tray holds 26 English capital letters. This toy helps kids to learn motor skills, eye hand coordination, alphabets and colors. The alphabets are ideally built for little hands to grasp and play with.
Lazy Toddler Numbers Toy Tray

Wooden number puzzle is a modern classic way to teach children about numbers. This set has numbers and mathematical signs. This collection helps kids learn and understand numbers through puzzles. It improves the skills of memory and visual discrimination in children.
Skillmatics Connectors Educational Game
It's a fun learning connection game that's perfect for preschoolers! Attach the tiles to each other, either vertically or horizontally, and form a line. There are various themes available: animals, shapes and colors and vehicles. For animal theme, possible associations are what animals eat and where they live.
Creative's Animal Families And Their Homes Card Game
In this game, the child is required to match animal cards to their corresponding baby & home cards.
Mega Bloks First Builders Big Building Bag

This collection contains 80 big building blocks. The blocks are big and easy to build. It comes with a storage bag that helps to store it without any problems. Building blocks facilitate hand-eye coordination, motor skills, spatial perception, imagination and cognitive flexibility. I am personally a big fan of mega bloks for their quality.
Magna-Tiles 32-Piece Clear Colors Set

Magna Tiles has recently joined the market for toys and is a great educational toy that infuses math, science and imagination. Kids may make flat or 3-dimensional shapes with colorful tiles. There are 32 clear, colorful shapes, comprising 2 large and 14 small squares and 16 triangles in this set.
RedChimpz 5D+ Educational Flashcards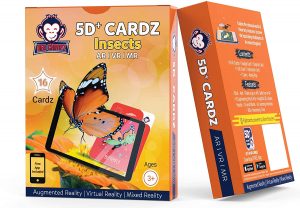 Flashcards are classic memorization methods. This Flash Card Package makes learning enjoyable. It has lively drawings and large fonts. The best features of these flash cards are that they have 5 d features. Kids can watch and communicate with objects in 5D,
which increases the visualization and learning power of Kids. It's available in number of themes: Insects, Aquatic animals, Birds and Wild animals.
Duplo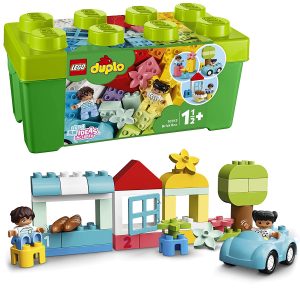 An all-time favorite, playing and learning with lego Duplo is never going out of fashion and is a must-have building toy for any 3-year-old. The chunky bits of the Duplo set are great for little hands. This set comes in a convenient LEGO brick-shaped storage box that makes it easy to store.
Trinkets & More Wooden Calendar and Clock Toy

It's an excellent teaching aid that helps children learn time, days, months, seasons, weather. Keeping their own calendar gives children a greater sense of freedom, self-reliance, accountability, and power. To promote interactive learning, rotating dials with movable hands and sliders are provided. Slide the tab to pick the day the week and the month of the year. There are two dials displaying the weather and the season.
Creative Number Match Cards Game

It contains 60 cards. With the support of this card game, the child will be able to count, recognise and learn the numbers from 1 to 20. The child has to count the objects and match them with the corresponding number or with another set of the same number of objects.
The child can also play memory games with this set to improve his or her visual discrimination and observation skills.
Puzzles
There are plenty of options available in puzzles for three-year-old kids. You can simply select as per your child's interest. You can also check Best Puzzles Sets page for reference.
Giggles Abacus

Abacus is a wonderful toy and educational tool to introduce your child to the world of numbers and counting.
Melissa & Doug On the Go Water Wow!

No-mess painting for kids! This exciting water-based painting book contains four reusable pages and a refillable water pen. Just use the pen to color in each scene—details and vivid colors appear with every stroke! Then let the page dry to erase the pictures and fill it up again and again. It comes in different themes: farm, livestock, numbers, aphabets, cars, etc.
Writing Patterns Practice Board
This is the best age for children to start learning their pre-writing skills by practicing writing patterns. This set comes with 8 wooden tracing boards and 8 wooden dummy pencils. Kids can use the pencils to trace various patterns. This way they learn how to grab a pencil, and how to move the pencil to draw different patterns which later helps them to write alphabets and numbers.
Hope you enjoyed this list of the best educational toys for 3 years old kids. Share it with your peers and in social media. If there is a toy that has worked for you, please share your comments.