Make Slime Monster at Home
Is your child into slime and you are looking for a simple and easy Monster Slime Recipe? Your search ends here. You don't need to buy any of the Monster Slime kits from the market. You can make your own ooey-gooey slime monster with this simple recipe.
My son had a great time playing with slime. I am sure your kids too will love playing with this slime over and over again.
What is a Slime?
Slime is a slimy, sticky substance having a texture that is neither liquid nor solid. It is made by combining glue and borax together. It is used by kids for playing. Even adults enjoy playing with the same. It's a great stress reliever when you squish between your fingers. Some individuals enjoy it simply because it is sticky and gooey and enjoyable to stretch. It is called SLIME because it is slimy to touch.
How to Make Slime Monster?
All kids love playing with slime. Make it once and your kids will love playing with the same over and over again.
Supplies Needed
½ Cup Clear Glue
½ tsp Baking Soda
3-4 drops of Food colour
1 tbsp Contact lens Solution
1 tsp Oil
Googly Eyes (Optional)
Bowl
Plastic Spoon
Steps to Make Slime Monster
Step 1
To start with, gather all of your ingredients. It always better if you have all things measured and in reach.
Step 2
Next step is to mix 1/2 cup clear glue, 1/2 tsp of baking soda, and a few drops of food coloring in a mixing bowl using a spoon. Mix thoroughly until the glue and food color are well blended. Use clear glue otherwise, the mixture will be less translucent and more opaque.
Step 3
Once you're happy with the color amount in your mixture, add 1 tablespoon of contact lens solution to the mixture and stir. The mixture will be sticky. So, you will have to stir it briskly for 10 -15 seconds. Contact lens solution will work as an activator to make the slime.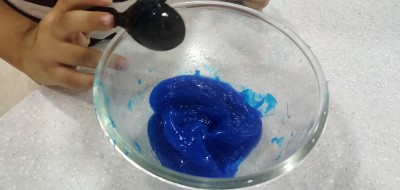 Step 4
Once you add contact lens solution, your slime mixture will start pulling away from the sides of the bowl. Now you can take off the slime from the bowl and begin to knead with your hands. The texture should be elastic and slightly sticky.
If you're not happy with the texture you can add more contact lens solution to the slime mixture to get a firmer, less sticky texture. The slime should not be very sticky and easily picked with your hands. Keep in mind that adding more solution reduces the stickiness, but it will create a stiffer slime. Therefore, use in moderation.
If the slime is still sticking to your hands you can add few drops of oil. You can use any kind of oil.
Step 5
Slime should be stretchy and not sticky. Once you've achieved the desired texture, remove the slime from the bowl and set it on a clean flat surface. Add some googly eyes. You can even create vampire fangs using paper and stick to your monsters.
Step 6
Now the part your kids will really like! Enjoy playing with your monster slime!
My son kept making different monster figures, The more you play with the slime, the better it will get.This recipes makes an amazing stretchy slime. You will love the outcome.
Next day too my son made a green slime monster.
How did Glue turn into Slime?
The most significant element in turning liquid glue into slime is a contact lens solution containing boric acid, which causes a chemical reaction in the glue, altering its characteristics and giving it a distinct "slimy" feel.
How to Store Slime?
Store the slime in an airtight container. Otherwise, it will dry. If your slime starts to get too solid or dry out, add little water or oil and knead it to get it more stretchy again. You can also store slime in zip lock bags.
Precaution
Slime is not safe if eaten. So please make sure to keep an eye on younger children and don't let them eat any of it!
Hope you found this Monster Slime Recipe useful. You can also use this recipe as the perfect party activity and party favor for kids. You can also try it on Halloween.