Best Puzzles for Kids Online
It can be a puzzle to choose the best puzzles for your kids online. Is the puzzle appropriate for your child? Should I choose 30 pieces puzzle? Or should I go for 60 pieces? What about the theme? Will a puzzle of the world map be appropriate? Or the Jungle theme will be better?
The options for kids puzzles online are endless these days and it can be really overwhelming to decide which one to pick for your child. You know that if you select the wrong one, your child might not even enjoy it. If they do not enjoy it, they may not sit with it again.
With this in mind, we have compiled a list of factors to consider when buying puzzle sets and list of some puzzle sets according to age.
Importance of Puzzles
Puzzles have stood the test of time. Our parents used to play them as kids. We have done it and our kids also love solving them. No matter how old you are you can always find a puzzle that you think is challenging enough. Puzzles challenges our brains and exercise our minds.  For kids, puzzles are great tool for developing hand-eye coordination, improve problem-solving abilities and memory. Besides this, they are also a great source of entertainment and great tool of developing patience in kids..
Types of Puzzles for Kids
There are numerous types of puzzles available in the market.
Insert puzzles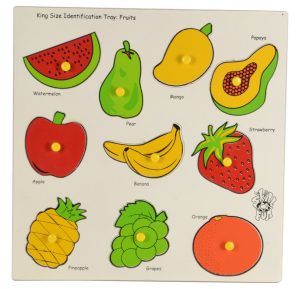 These are chunky puzzles usually made of wood with little pegs to hold. Babies can pick them out of the slots or try to push them back in with the help of the pegs. They are meant for babies and toddlers. There are simple puzzles too with 4-8 pieces that a toddler can play.
Magnetic puzzles
Magnetic puzzles come with a magnetic board and wooden magnet shapes. These magnetic shapes have to be placed to create various figures. There are magnets on each piece so that it sticks to magnetic board easily. They are perfect for toddlers and pre-schoolers.
Jigsaw puzzles

Jigsaw puzzle is a puzzle where a picture is to be completed by fitting its pieces together. The picture is printed on a cardboard and cut into various pieces of different shapes. The size and number may vary from puzzle to puzzle.
Jigsaw puzzles are available for all ages starting from preschoolers. It can start with 3 pieces and move to 1000 pieces. You have to complete it by interlocking the pieces together to create a picture.
3D puzzles
Unlike traditional puzzles which are composed of series of flat pieces, there are 3d puzzles where pieces have to be joined to create a standing structure.
How to Select Puzzles for Kids ?
One carefully chosen puzzle can give your little one, hours of fun and learning. Factors you should consider when looking to buy the right puzzle for your child is listed below.
Start with Insert puzzles
If you are buying puzzles for toddlers, go for insert puzzles with very few pieces. The pegs are easier for their tiny hands.
Start with a smaller number of pieces
One of the most important considerations when selecting the best puzzles for little ones is the number of pieces. Younger children usually need puzzles that are easier to assemble with fewer pieces. As they grow, you can increase the number of pieces as they can handle greater complexity.
Topic
Choose a topic which is of interest to the child. There are various themes available online: Transport, Solar system, Maps, Ocean theme, popular cartoon characters, Jungle theme, Dinosaur theme, etc.
Size of Pieces
Puzzle pieces come in different sizes. The younger the child, the bigger the pieces you should be looking for as a general rule.
Image Type
If your child is young, choose puzzle whose picture has more contrast colors. The more contrast, the easier the puzzle will be. The child can plan by finding all of the pieces of a similar color to put them together. A picture having different shades of same color is not suitable for beginner level as all pieces may seem to be identical to the child.
Puzzle Shape
Most jigsaw puzzles feature classic interlocking pieces and are rectangular in shape. Some of them however, can come in  unique shapes related to the puzzle's subject. The square or rectangle ones come with straight edges and predictability whereas irregular shapes are not as easy to anticipate.
Best Puzzles for Kids Online
Here is a list of best puzzles depending on your child's age. You can click on the image for buying link.
Age 1-2 years
---
For this age group, the best puzzles are insert style puzzles with very few pieces. Most popular topics for baby puzzles include alphabets, animals, geometric shapes, and transportation.
Wooden Toddler Peg Puzzles
Skillofun Wooden Shapes Chunky Puzzle
FunBlast Wooden Capital Letters Puzzle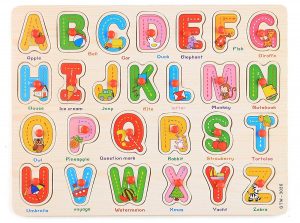 Ages 2-3 years
---
Slowly, over time, they can graduate to bigger piece insert puzzles working with 5-10 pieces. Then, they can move from from insert puzzles to jigsaw cardboard puzzles having 3-8 pieces. But the image should be simple, bright and clear. Magnetic puzzles are also appropriate for this age group.
R K Cart Transport Vehicles Simple Puzzles for Kids
Creative Educational Aids 8 Piece Puzzles
Wondrbox Jigsaw 12 pc Puzzle Game
AdiChai Multi Coloured Wooden Puzzles for Kids 
Ages 4-5 years
---
These kids can complete jigsaw puzzles with up to 60 pieces easily. You can start with 24 and then gradually move to more number of pieces.
Frank Dinosaur theme 24 Pieces Puzzle
The Book Tree 30 Piece Deadly Dragons Puzzle Set with 1 Story Board Book
Webby Solar System Jigsaw Floor 60 pcs Puzzle 
Pola Puzzles Aqua Buddies 60 Pieces Puzzles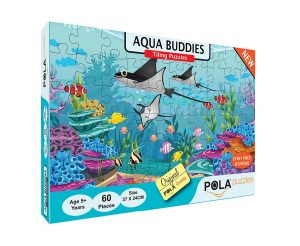 Ages 6-7 years
---
Kids in this age group can solve puzzles with pieces up to 120.
Pola Puzzles Dino World 100 pc set
Pola Puzzles The Furry Bunch 100 pc set 
Frank Disney's The Lion King Puzzle 108 pcs set
Frank Solar System Puzzle 108 pcs
Ages 8-9 years
---
Kids in this age range can graduate to puzzles with between 250 and 500 pieces, depending on their development.
Africa Puzzle 250 pcs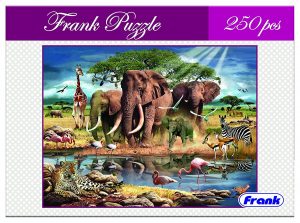 Frank Eiffel Tower Puzzle 500 pcs
Frank Venice Puzzle 500 pcs
Ages 10 years and up
---
For Kids ages 10+ sky is the limit. They should be able to solve any size puzzle with enough patience.
Frank White Tigers Puzzle 1000 pcs
Frank Countryside 1000 pcs Puzzle 
I hope you find the list of Best Puzzles for Kids Online helpful. I personally like brands, Pola puzzles and Frank. Their quality is good and price is reasonable.
You may check our other articles
Best Outdoor Toys for Kids in India
Best Board Games for Toddlers and preschoolers in India