Best Bakeries in Jaipur
Here you will find our list of Best Bakeries in Jaipur.
A good dessert and good bread can make your day! At least it makes mine 😉 Jaipur is right now brimming with cafes and bakeries to please any dessert and bread loving person. Here is my list of the best bakeries in Jaipur for you to make your day better. Whether you're looking for your daily breakfast bread or a quick snack or something to soothe your sweet taste buds, you will find it here.
List of Best Bakeries in Jaipur
 Dzurt Patisserie and Café
Dzurt is a patisserie and cafe based in the heart of Jaipur run by Chef Tejasvi who is trained at Le Cordon Bleu, Paris.  It is right next to the Spice Court restaurant. It is not very big in size but has a lavish spread of desserts. Some of their most popular desserts include Macarons, s'mores chow bun, Nutella cheesecake, red velvet cake, devil's food cake. You may find its prices a little higher compared to other bakeries but you'll relish what you get in return.  You will find a lot of peoples coming to this bakery for desserts and coffees after lunch and dinners.
Address: Achrol House Jacob Road, Civil Line, Jaipur – 302001
Contact Number: 7426014488
The Feast Bakery
The Feast by Pallavi Daga has two outlets in Jaipur- Malviya Nagar and C Scheme. It is a perfect spot for a coffee date with desserts. The interior is beautifully done with brick finished walls and mix and match upholstery. They are known for their stunning designer cakes. They do amazing wedding cakes, birthday cakes, baby shower cakes, bachelor cakes. Apart from deserts' they have the best bread, pizza base, pita bread, and lavash. Some must-try desserts include pineapple pastry and choco truffle pastry.
Address: Shop No – E-92, Subhash Marg, C Scheme, Jaipur – 302001
Contact Number:  141 4018895
Address 2: Shivam Business Centre, Near Kotak Mahindra Bank, Calgary Road, Malviya Nagar, Jaipur
Contact Number: 141 4901737
Ombre
Ombre is a chic and sophisticated bakery that will remind you of dainty patisseries that line the streets in Paris. It is a beautiful and cozy place for dessert lovers. It serves premium gourmet desserts. They have both indoor and outdoor seating. This bakery will give you a luxury feel. Their creations are a treat for the taste buds and the eyes. They do customized cakes and gift boxes too. They do beautiful dessert bars for small gatherings. You should check their Instagram page to see their beautiful creations.
Address: Quarter no, 2, Sardar Patel Marg, near Home Café, C Scheme, Ashok Nagar, Jaipur, Rajasthan 302001
Contact Number: 9829037046
Brown Sugar
With multiple outlets in Jaipur, Brown Sugar is one of the best bakeries in Jaipur. It has 11 outlets in Jaipur. You will find it in Malviya Nagar, Vaishali Nagar,  C Scheme, Bapu Nagar, Raja Park, Hawa Sadak, Gopalpura, and Mansarovar. It is a one-stop solution to your bakery needs.  It has a cozy ambiance which makes it a great place to grab a coffee along with desserts. You will always find the bakery filled with youngsters as it provides food along with desserts at reasonable prices. They do amazing birthday and baby shower cakes.
Address:D 230 Amrapali Marg Near J K J Jewellers Vaishali Nagar, Hanuman Nagar, Jaipur
Contact Number: 141-403 4466
How Sweet
How Sweet is another premium gourmet bakery located at Lal Kothi. They do both sweet and savory. Their display cases are lined with cheesecakes, eclairs, brownies, cakes, and cookies, and it looks divine. They also do gift boxes beside beautiful cakes. It has one of the best Jaggery cake and butter cookies in Jaipur.
Address: C-29, Lal Kothi, Pankaj Singhvi Marg, Jaipur 302001
Contact Number: 99298 07333
Zolocrust, Hotel Clarks Amer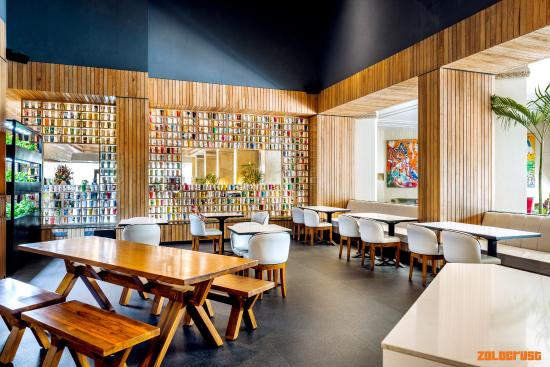 Situated in Hotel Clarks Amer, Zolocrust is a popular place for a hearty breakfast as well as late-night desserts. Everything here is divine. They have the yummiest desserts. You will find apple pie and cheesecakes also on their menu. This place will not disappoint you. They have a live kitchen and everything is prepared in front of you. Their desserts are just out of the world. Their veg pizza is the best in Jaipur.
Address: Lobby Level, Hotel Clarks Amer, Jawahar Lal Nehru Marg, Jaipur, Rajasthan 302018
Contact Number: 80586 62222
Miss Bakers
Miss Bakers is known for its designer cakes with great decorations. They are available at three locations in Jaipur : Vaishali Nagar, C Scheme and Raja Park. Their cakes and cupcakes are really good. The theme of the shop is classic pink and white which looks cute and eye-catchy. The menu includes tarts, donuts, banana bread, muffins, pastries, cheesecakes, cupcakes besides regular cakes.  You cannot afford to skip their Red Velvet Cake.
Address: Shilmohar Plaza, Opposite Udyog Bhawan, Tilak Marg, C Scheme, Jaipur
Contact Number: 9950556688
Bake Hut
Bake Hut is a cake shop that can be found at multiple locations in Jaipur. It is one of the best bakeries in Jaipur to purchase some delicious pastries and soft loaves of bread and cakes.  As stated by them it was the first bakery of Jaipur to have introduced Eggless Bakes. They do a lot of wheat products too like wheat burger buns, wheat pizza bread, wheat Pao bhaji buns. Their Death by Chocolate cake is worth trying.
Address: Panch Batti, Arvind Marg, MI Road, Jaipur
Contact Number: 9314030033
Cakes & Cookies
Cakes & Cookies is a self-service outlet. They make fresh bread, pizza base, kulcha, burger buns along with cakes and pastries. Their goodies are freshly baked and mouthwatering and even pocket-friendly for customers. You can place your order for a simple and classic cake or a lavish one for a special event. You can also indulge in snacks and munchies such as puffs, sandwiches, and finger food at this outlet.
Address: Shop No:- 402, Gali No :-3, Raja Park, Jaipur – 302004,
Contact Number: 7947059053
Cake World (Suresh Traders)
This cakeshop is an affordable bakery shop. You will always find it crowded. Their bakery items are fresh and tasty. Their cakes are always fresh and creamy. They have a wide range of cookies too. If you have any customized cake in your mind, they will bake it. Be it cakes, pastries, cupcakes, patties, pizzas, sandwiches each and everything is available here. They also do a lot of wheat products like wheat pizza base, white pao bhaji buns, wheat kulcha, and wheat burger buns.
Address: B-31, Basant Bihar Colony, Gopalpura Bypass, Jaipur – 302018
Contact Number: 9887021821
I hope this list of best bakeries to visit in Jaipur for dessert and savory treats is useful to you. All you have to do now is listen to your cravings and take a short trip there to fulfill your desires.
Do you have any other bakery to add to our list of best bakeries in Jaipur? Please comment and let us know.